Corralling the Entryway Chaos
I've mentioned this before, but we have a serious shoe problem in this house. There is plenty of shoe storage in our closets, but that's not where the shoes live. No, they live by the front door.
The pile of shoes isn't alone though, it's always kept company by an ever-changing pile of tools that need to go out to the garage and a couple of backpacks. It's important that disorganization doesn't get lonely.
Our new house has cubbies in the mudroom that take care of all this, but in this house there is nothing. We probably won't sell this house until summer, and I can't take the craziness until then. We're going to start practicing our organization now.
First thing I did was buy this Better Homes and Gardens cube organizer and some fabric bins to go with it. The bins come in over 30 different colors and designs, but I kept it safe and boring with tan.
There are four bins for the four shoe-wearing members of our family, and the bins are big enough to hold a ton of shoes. It's perfect.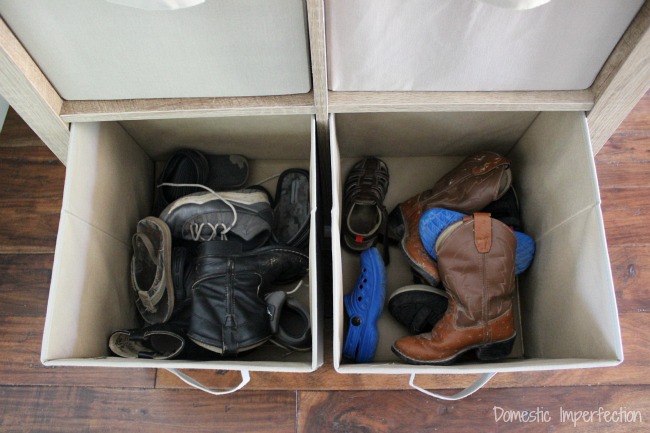 My boys are disproportionately excited about the bins, since they each get their own. They are only 19 months apart and share everything. They share a room, toys, clothes…heck, they don't even get their own underwear. If they are playing outside and yell that they're thirsty I bring them one big jug and tell them to share. So when I showed them their bins they we're like "wait…it's just for me?!" I'm not sure if I feel like a great mom for teaching them to be grateful or a terrible one for not letting them have more things that are just for them.
The cubby system was only $37 and has a really great rustic wood look. I've only ever seen them in black or white, and this one is leaps and bounds prettier. It's not real wood or anything, but for $37 bucks I wouldn't expect it to be.
I put a basket on top to hold all the tools that need to go out to the garage. I know they are going to end up there anyway, why not plan for it? And even through it was literally 99 degrees yesterday I put out a pumpkin for fall…which lasted about 15 seconds before my kids confiscated it. (I later found it in their room wearing one of the babies diapers).
Now, can we talk about that painting already? Last Christmas I broke the "no gifts" pact between Adam and I because I just couldn't resist. It was the perfect gift for my husband.
Is that not the best thing ever? You either totally get it and think it is hilarious, or you are completely confused. Adam says it's not funny if you have to explain it, but it's a called "Total Redemption" and is a scene from the Dumb and Dumber (one of his favorite movies). This scene, to be exact…
Haha, Jim Carey's face….perfection.
Anyway…
To solve the backpack problem I bought these numbered cast iron hooks on etsy.
Adam hung them on an old board, and just like that we had functional storage.
I don't know why it took me so long…it's so nice to have everything up off the floor and is a crazy easy project. Sometimes I just need a good old sponsored post to get my butt in gear.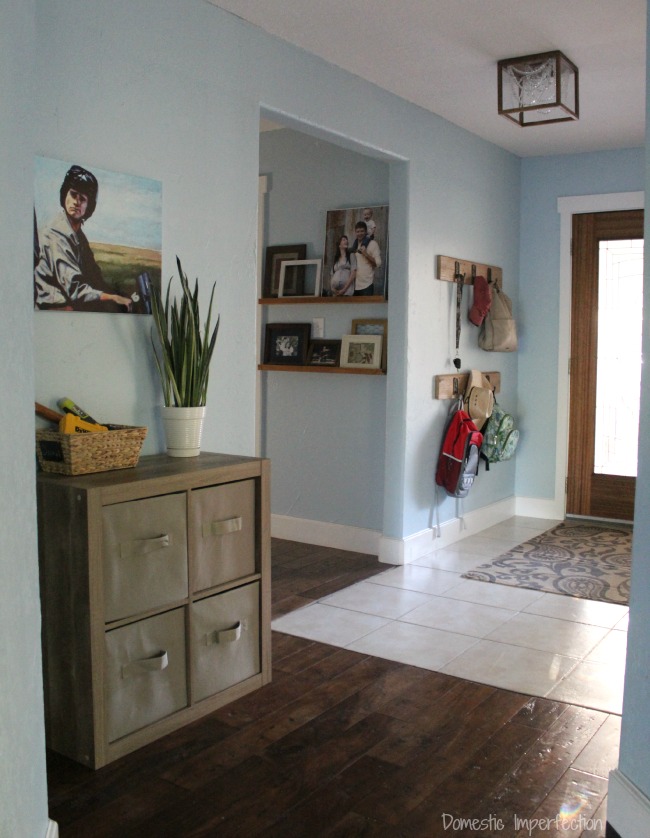 For even more inspiration follow Better Homes and Gardens at Walmart on Instagram, Pinterest, Twitter and Facebook.
*This post was sponsored by the BHG Live Better Network. All opinions are 100% my own.