Three years ago today I started Domestic Imperfection. For the first two blogiversaries I put together giveaways as a thank you to my readers for all the support. This year I didn't plan anything though, mostly because it's a whole lot of work and only one or two people win things. So instead I'm going to do something better…I'm going to completely embarrass myself for your entertainment. If that doesn't show my gratitude then I don't know what does.
So here it goes.
Sometimes get e-mails from readers that say something along the lines of "I love your home, you have such a great sense of design! I wish I was as creative/talented as you!" First of all, y'all are sweet…so much sweeter than I deserve. So thank you for that. But when I read something like that I also think to myself "Girl, if you only knew how wrong you are." Because you are, in fact, crazy.
I love creativity and DIY…but being good at it (and I still have SO much to learn) doesn't come naturally. It takes practice, and it takes failures. So many failures.
So if you totally suck at designing and decorating a  space, there is hope for you. And I'm not just saying that, I have pictures to prove it. This, my friends, is my childhood bedroom.
I know, it's bad. So very bad.
The worst part is that I wasn't even a child when I did this…I was a senior in high school. I thought this through and planned it out. I bought blue and purple paint, cut sponges into star shapes, called up my friend Denise and told her "come hither, for it is time."
Y'all, she didn't even try to stop me, even when I was like "Hey! I have a great idea…lets put stars on the furniture too!"
I don't know if you can tell, but the sheets on my bed were also covered in stars. I remember buying them at Target and they were scratchy as all get-out, but whatever…they had stars on them, so they "matched."  Obviously.
It even goes a step beyond my bedroom. Instead of a traditional purse I carried and mini Jansport backpack ( I might not have been the most feminine teenager). I couldn't stop there though, I had to make it my own. So, this happened…
Yes, that is a current picture. I've tried to get rid of it so many times, but my husband (the least sentimental person I know) makes sure it sticks around. It was the purse I carried when we dated and I guess he likes to be reminded of what a hot mess he married. It did look good paired with my goodwill t-shirts and plastic jewelry…now it lives in the toy box and holds matchbox cars.
Speaking of painting my bedroom, here's a fun story. The night before "star day" Adam came over to my house to meet my family for the very first time. I remember that I was upstairs telling him about my big bedroom plans and had to leave and go downstairs for some reason.
This is where everyone's story gets blurry.
All I know is that Adam and my brother were alone in my room, and when I came back upstairs both of them were furiously trying to clean up a giant blue pile of paint on the carpet. To this day they still argue about who actually spilled the paint. Luckily my parents were great sports about the whole thing and laughed it off. Poor Adam though, the first time he meets my family he was somehow involved (gotta stay neutral, lol) in spilling a quart of paint on the carpet. Wait, it gets better…I have a picture.
Note that both suspects are splattered with paint. Also, note my goodwill t-shirt and plastic jewelry…I wasn't kidding about that (as much as I wish I was).
Okay, so here is the most embarrassing part of this post. I have a confession…I am messy. I am a right-brained creative and organization and cleanliness doesn't come naturally.  Here are a couple more pictures of my room that I can't believe I'm posting…
My parents took pictures of it one day so that we can always remember how horribly messy I was. Don't worry mom and dad, my husband will never let me forget.
Just so you know, I am much cleaner these days.  My super clean husband has rubbed off on me (and I a little on him) and we now live happily in a semi-clean home.  Actually, it would be relatively spotless if it wasn't for my boys ransacking the entire thing every 20 minutes.
I've decorated a lot of spaces since that star bedroom and with each one I learn and get better. For example, the first room I decorated when we bought our house was the guest room.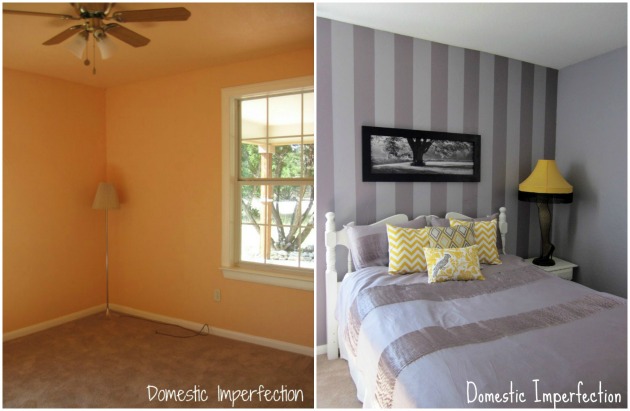 The guest room isn't terrible…but it's not great either. I don't love it. If we actually ever finish remodeling our house this will be the first space I redecorate. (Update: I did redecorate, and it's awesome. Click here to see.)
Shortly after the guest room Adam and I did the laundry room.
Getting better…the laundry room is much more my style than the guest room. (This is after the first remodel, here is what it looks like today).
Next I did the living room…
I like my living room, but there are plenty of changes I would like to make now that I've lived in it for a while.
Then we finally finished the kitchen and dining room.
These I love. I'm getting better at this.
Then there is the nearly complete master bathroom…
The lesson here is two-fold –
If you happen to like stars, don't sponge them all over your walls and furniture, purchase star sheets, and star-bedazzle your mini backpack. That might be going slightly overboard.
Even if you have done some wicked bad decorating in your past and currently have no idea what you're doing…there is hope for you.
As for my star room, as soon as I got married and moved out my brother moved in and painted over the walls. They are a deep teal now…but when the light shines on them you can still see all the stars. Mwhaha. Anyway, serious props to my parents for letting me do whatever I wanted to my room, even if it was terrible. I can't wait to hear what they think of this post…they're either hanging their heads in complete shame and embarrassment right now, or laughing their butts off that just posted that horrible mess on the internet.
In conclusion, thank you for reading and supporting me over the last three years. I've had so much fun blogging about my projects and I'm glad to have y'all along for the ride!
SaveSave
SaveSave