This project is an easy one, though it still started off as a DIY fail. So the first part of this post will be the perfect sparkling tutorial on how to make your own birdbath…then I'll let you know what NOT to do.
I made my birdbath out of a terracotta pot, saucer, and an old brass lamp…but you can really use anything. Go crazy. The motto here is "if you can glue it, you can do it." I literally JUST came it with that.
First I cut the cord on the lamp base and pulled all the extras off.
Then I gave everything a coat of spray paint…this is "lagoon" by Rust-Oleum.
Next, find the center of your saucer and drill through using a small paddle bit. You might want to do some math for this…I just guesstimated and admittedly mine sits a little crooked.
Then comes the glue. I ended up using epoxy by Gorilla Glue and it worked great. If you look closely you see a little knob on the top of the lamp base…that is why I drilled a hole in the saucer.
While it was drying it gave it another quick coat of spray paint to fill in the seams, and followed that with a coat of spray polyurethane.
And that's it…a simple, colorful, DIY birdbath! IF you do it correctly, that is.
Here are a couple of things you probably should NOT do…
1) Don't try the poured paint pot technique, decide you hate it, and try to paint over it before it's 100% dry.
2) Do not use crappy glue, because even after 24 hours of drying your birdbath WILL fall apart.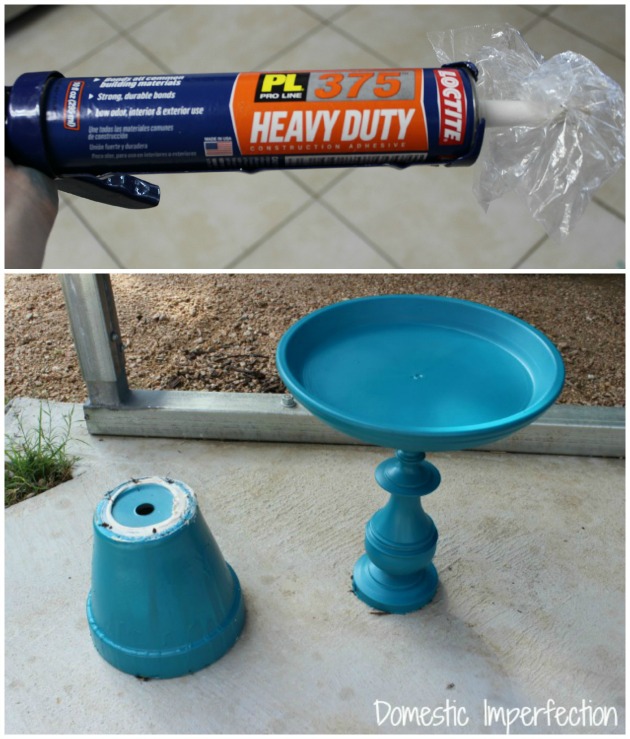 Now, you would think construction adhesive would pretty much be the best thing ever. After all, it says right on the tube that it bonds wood, metal, brick, concrete….according to the package you should be able to glue a house to an airplane. And it bonds in 10 minutes! Woohoo!
NO.
Construction adhesive sucks. I have tried to use it multiple times and I don't know why I keep trying. I would have better luck using white paint to glue my projects together. I can't be the only one.
So that's my tutorial and anti-tutorial. Total cost for this project (if you choose to use the same materials and do it right the first time) is about $15. Not too shabby.
On a sidenote, Adam and I spent way too long debating on whether birdbath is one word or two. I say one, he says two, google says both. What do you think?
You may also enjoy –