The State of the House, 2017 – The Exterior
I feel like I need to give y'all an honest-to-goodness overview of the whole house. The entire thing, not just the pretty parts that we have finished, or the parts we are currently working on, but the whole house in all its unfinished glory. So today I'm starting with the exterior, since blogging about that part is quite a bit less intimidating that blogging about the entire inside.
So here we go, this is what the house looks like right now, May 2017. I didn't clean it up for the internet, I just grabbed my camera and got to snapping.
We've lived here for about nine months now, which kinda blows my mind. A lot of the time Adam and I feel like we are moving really slowly on finishing the house, but then I see pictures of where we've been and feel better about the whole situation. I mean, two years ago we had a new piece of property and sketches of our dream house on some graph paper (and half as many kids!).
A year ago we had something that resembled a house.
And today…well, today we have a home.
The biggest change as of late is that there is a lawn. Real grass!
We just installed the lawn about two weeks ago and its made a huge difference. No only do my kids now have a great place to run and play, but I'm also not having to sweep mountain of construction sand out of my house each day. There's a little more than meets the eye with this lawn though, so I'll dig more into the details in another post. Also, we still need to put in the walkway, here is the view from the front door –
The cornice crew just came and installed the sunshades a few weeks ago (there are six of them total) and now we are waiting on the roofers to come finish them up.
One of my favorite aspects of the house is that it has so much outdoor living space, here is the front porch.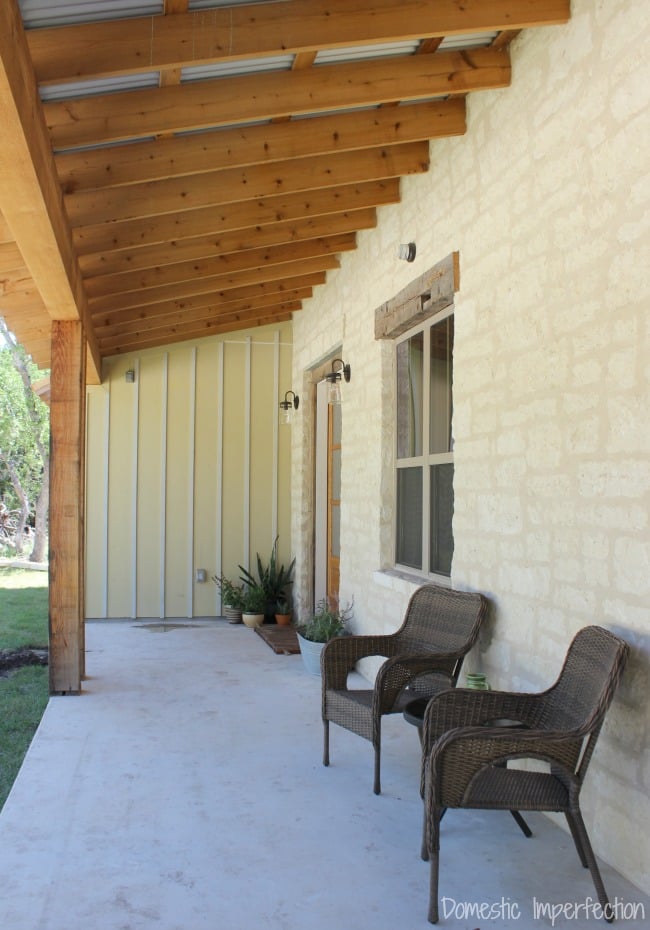 You can see that we are missing paint in some areas, this part on the porch the painters just….forgot? I can't remember, but its been like that for a while and I barely notice anymore.
I've never talked about the exterior lighting on the blog, but all the sconces were sponsored by Lamps Plus. There are SO MANY options when it comes choosing lighting, and when Lamps Plus and I decided to work together I was like "Thank goodness, that at least narrows it down for me." But no…their selection is huge, they have great prices and sales, and they even have an open box section where you can score stuff for even cheaper. I've scored a lot of great deals on their site since receiving these lights (they sell furniture and home decor too!)
We ended up choosing these lights from Kichler since they checked all the boxes….oil ribbed bronze, seeded glass, and they throw light in all directions (not just down). They also happen to look great on all our different exterior finishes.
We wanted lighting to run the length of the porch and not only by the front door, and since we decided to do ceilings that exposed the corrugated roofing material recessed lighting was out. Instead we added these little lights above the windows…
Online I thought they were a great solution, and I was even more thrilled when I got them in. I feel like it's rare these days to purchase something and for it to exceed your expectations…these did though. That piece of glass on the front is solid and it is heavy. You could use it as a paperweight… just a weight for  exercising. I love that they throw off the perfect amount of light without being in your face about it.
Alright, so here comes the part where you actually start to believe that I didn't clean anything up for the internet. Here is our breezeway.
Here's the thing….our garage is giant. It's 25 x 50, which a basically a four car garage. We plan to park our cars in the front half and have the back half be a for woodworking, projects, and storage. During the building process we decided that to save money and wire the garage ourselves…but we haven't gotten there yet and the garage has no electricity. Also, when the cornice crew was here installing the garage door trim they put it in so tight that none of the garage doors will budge. So no lights, power, doors, or ventilation means we don't use the garage for anything but storage (I use the term "storage" lightly, since the garage makes our breezeway look clean).
You may have noticed the water fountain on the breezeway. My parents bought it for us for Christmas since my kids are thirsty and begging for water 24/7. They have water bottles with them everywhere they go (in the car, in bed, outside, upstairs, watching TV) and they are constantly sucking it down and asking for more.  And while it's super annoying I can also sympathize, because I'm the same way. If I get in the car and realize I forgot my water I an instantly parched…just like my mom. Seriously, if the world ever runs out of water my family will be the first to go. Anyway, in restitution for passing down this ridiculous thirst gene my parents gifted us a water fountain for the breezeway. It's awesome and makes life just a little bit easier.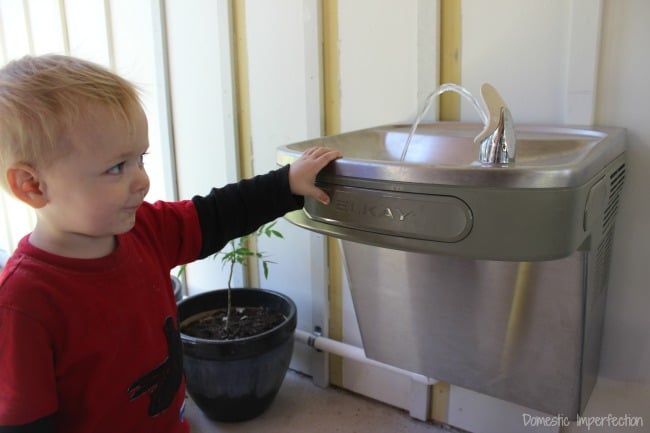 We also still need to figure out lighting and a fan for the breezeway. I already have a huge fan for this area (this one from Lamps Plus), but we need to skin the center beam and hide all the wires before we can install it.
We also want to add some lighting to the ceiling, but because of the exposed metal (no soffits) porch lighting is a little complicated. I'm thinking we may just add some more string lights like we did in the backyard.
The siding on the mudroom area (Ranchwood) has yet to be finished in a few places. Adam was chugging away at it, then we ran out and progress stopped….like, a year ago.
Alright, onto the backyard.
The immediate backyard actually looks amazing, it's clean and usable….grass really makes all the difference in the world.
Here is looking into rest of the backyard from the porch, to the right is the kids domain. They have a trampoline, climbing dome, and zipline, all compliments of their very generous Mimi.
To the left of that is the view, Adam and I like to sit out here at night and watch the sunset after finally wrestling all four boys into bed (or really any time either of us is at our breaking point…it's a great place to escape and reset).
Adam has been busy annihilating cedars and we have yet to clean them up. There's only about another 30 feet of brush to bust though before we clear to the creek though, and I'm hoping we will be able to see the water from the top of the property.
Speaking of the creek, it is just as pretty as ever.
We haven't actually played in it much since moving into our house, but we haven't lived here when it was summer either. (It looks like a trickle in these pics , but it's about five feet wide and two feet deep).
Back up the hill we also have the chicken coop. I'll blog all about it when it's finished, but this is what we have so far –
We designed it to look like a miniature version of our house and it currently holds 31 chickens (we are down a few since raccoons are freaking smart).  All my boys love the chickens, but my oldest is our little chicken farmer. He spends hours down here with them, and I can only imagine he will enjoy it more when they actually start laying eggs.
Here is the view of the house from the backyard –
So that's the tour, you are now all caught up on where we are on the exterior of the house. As you can see we still have lots of works to do, but I feel like the exterior/property is chugging along at a good pace. I have a few more posts to write about the outside and then we'll move inside!
*Lamps Plus provided the exterior lighting in exchange for promoting their company and products. All opinions are 100% my own.