How to Hang Outdoor String Lights
When Adam and I were designing our home we purposely enclosed the backyard, making it a courtyard that is surrounded by the house and garage on three sides. We plan to put a tiny little irrigated lawn in that area (the only way to keep grass alive in Texas) and have the rest of the property be native.
Over this part of the backyard I wanted to add pretty string lights…because no one looks at the photo below and thinks "no thanks".
I originally wanted them romantically swagged back and forth, but there are really only two points of contact opposite the porch….and while I don't think string lights have to be perfectly spaced, ours would have been really wonky. So instead we decided to just do two straight lines between our master bedroom, garage, and breezeway. When you are stringing lights across a 75 foot span to include a mid-air 90 degree turn, you can't just go for it with the lights…you have to add some steel wire to support them first.
So we bought two cable kits from Amazon and attached the wire to the rafters using eye hooks, and along the way we discovered a cool new product called the Gripple.
So in the past we have always attached our wire the traditional way, using little metal pieces that you slip over the wire and squish to hold the wire loop in place. I know that's confusing, here is a picture from our old kitchen so you can see what I'm talking about….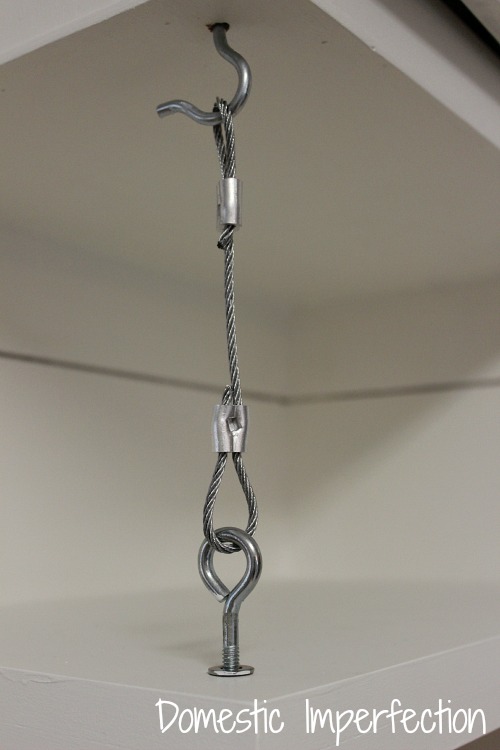 That way was a pain, you had to buy a special squishier tool and it only work about 50% of the time. The Gripple replaces all that and makes attaching wire a 10 second process that is fail proof and requires no special tools. You just slip to over the wire and it holds everything tight on its own, and according to the package it will hold like 600 pounds or something ridiculous. Here is one in action at our 90 degree turn…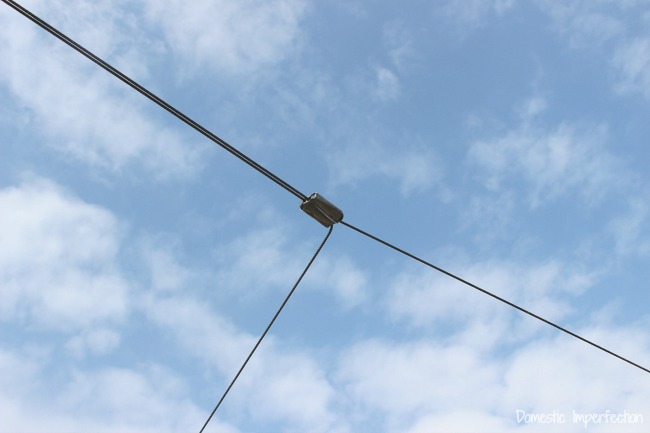 Once all the wire was suspended it was time to add the lights. We chose these Better Homes and Gardens cafe string lights.
Better Homes and Gardens makes a ton of different kinds, from a 20 count strand for under $10, to edison bulbs, mercury glass, and stars…but we chose a 12 count of lights for $34 because they are LED. My husband is all about LED these days… they are bright, never burn out, and use so little energy that they are practically free to use.
We attached them to the wire with zip ties, and it was a family affair (minus one sleeping toddler).
The bulbs on this set are plastic, which when I first opened the box I was like "Well that's cheesy", but then I thought about it and it's actually genius. I mean, the last thing I need is my boys hitting them with a ball or something (guaranteed to happen at least 1000 times) and having to go pick glass shards out of the yard before someone impales themselves.
When we were finished stringing them Adam and I stood back and looked at them, and he was like "What do you think?' and I was like "I think it looks like there are wires all over my backyard."
But then the sun began to set and things started to get magical.
And by the time it was completely dark I decided I loved them.
Trust me when I say they look better in real life. I wish I was good at photography and I could capture that cool soft glow bokeh effect, but instead I suck at photography and you get the 'ol streaky light effect.
They really are pretty though, and will be great for late summer nights and parties with family and friends. One day soon we will get around to installing grass, and then the backyard will look more like a legitimate backyard and less like a well-lit, magical mud pit.
For even more inspiration follow Better Homes and Gardens at Walmart on Instagram, Pinterest, Twitter and Facebook.
*This post was sponsored by the BHG Live Better Network. All opinions are 100% my own.