Alright, time for the final part of the 2017 house tour! I've already posted about the exterior, and the main living areas, so keep reading to see the bedrooms, bathrooms and the loft.
Let's start with the loft…
There it is, truth…I bet you weren't expecting to see a giant mess right off the bat were you?
The loft is the only thing upstairs (besides the attic) and it serves as the kids playroom. It's perfect, because every single toy the kids own is up there and I can't see any of it. I can have my clean downstairs, they can have their messy play area, and we can all live in harmony. (Also, all the choking hazards stay up there where the baby can't get to them.)
At first I went back and forth about whether I should make them keep it tidy or not, but I ride them pretty hard about keeping their other spaces clean…putting away their dishes and laundry, keeping their room clean, making their bed, etc, so it's nice just to give this one up.
About once a month we go through and make it perfect again, but other than that I'm pretty hands off.
Anyway, this room is also very unfinished, we really just threw the boys stuff up here and forgot about it. The floor is just plywood, which we painted white. We had to paint it so that we could check the "flooring" box and close on our construction loan, but we are on the hunt for real flooring because the plywood is crazy loud. I've almost pulled the trigger on carpet multiple times (even though I hate carpet), but I can't decide if we should get something decent that will hold up, or the cheapest carpet ever because it's a playroom and it doesn't matter. Problem is that even the cheap carpet is still kinda pricey. Now I'm looking into noise reducing laminate wood look flooring + rugs, which I like better and is about the same price. If anyone has advice/experience in this area, I'm all ears!
Okay, back downstairs. Today I'll be showing you the areas in red, and if you want to see the other parts you can read my previous post.
Here is the front bedroom, Elijah and Levis room –
It's very plain right now, but here is a moodboard of where we are headed –
Before our last baby was born I posted the room plans, the boys wanted and underwater ocean room…squid and octopus, specifically. My original goal was to get it finished before the baby came, but then I got to thinking….if the baby was a girl (we didn't know the gender) we would need to move all three boys to the other bedroom because it had more wall space for beds, which meant starting on an ocean room would be dumb. So I did nothing instead.
The baby was a boy though, which means I'll have four boys in two rooms and we are good to go on the underwater/ocean bedroom. I've done a few things, like sell the bunk beds and bought the fabric and paint, but I've stalled because I really, really don't feel like painting. I used to enjoy painting, but painting with littles around is hard (and it's not like I can do it at night when they are sleeping).
Anyway, painting this room is on our June to-do list, so hopefully we will be a few steps closer to an ocean room very soon!
Next we have the boys bathroom.
Isn't it glorious? Minimalism at its finest.
I have big plans for this room. It's probably the first room in the house that I saw exactly what I wanted to and it hasn't changed in the last year and a half. Unfortunately none of it has happened yet, but it's going to be great. I'll share those plans later so that this post doesn't get crazy long, but for now we're off to a good start (with the tile, not the mop sink).
Next up is the middle bedroom, Judah's room (the baby still sleeps in our room).
This bedroom currently has random stuff from about three different rooms in our old house. I had planned to turn this room into the a cowboy themed bedroom (since that is what we did in the old house and I have all the stuff) however, Judah LOVES dinosaurs. Loves them. He's obsessed actually, so I'm thinking we might have to go that route. We will see if he is still head over heals in love with dinosaurs when we get around to decorating this room, or if he has moved onto something else.
It's so plain y'all, everything is so plain and white I can't wait to start getting to the decorating phase in this house!
Onto the last bedroom, the master. This one actually has been decorated a bit and is currently my favorite spot in the house.
These pictures are from a post a few months ago, but it still looks the exactly the same, no progress has been made (except now there is grass outside the window instead of dirt).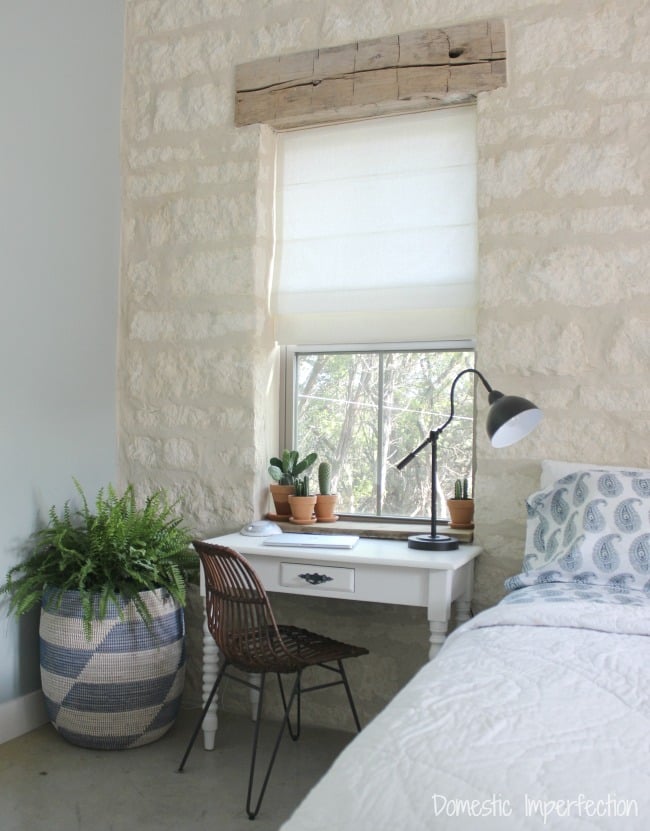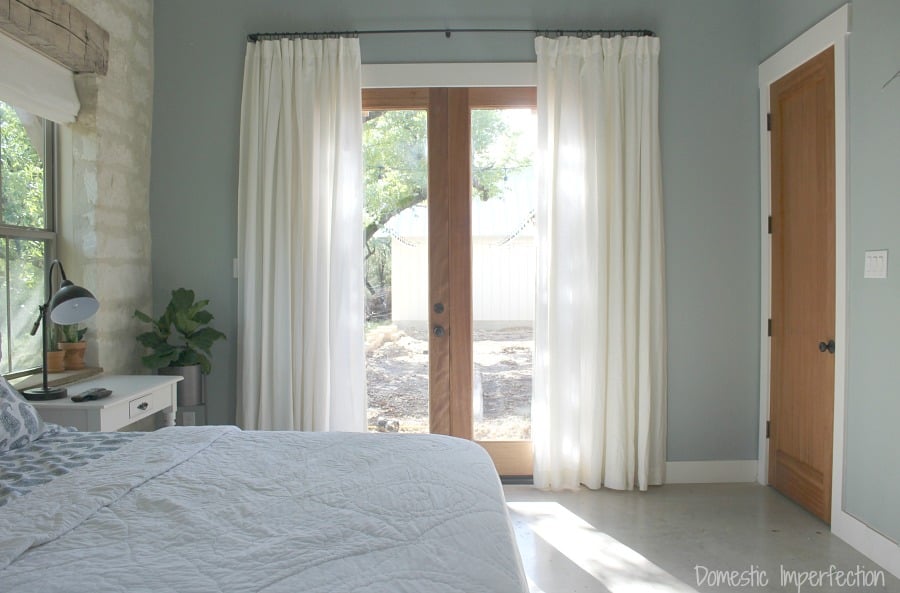 Here is the master bathroom –
It's off to an awesome start, but like the rest of the house we still have to finish the majority of it.
Both of our bathrooms are going to have double sinks, but for now they each just have one temporary sink. The boys bathroom has that mop sink, and our bathroom has this….thing. Its teeny tiny and super low, but it was free and we needed to check that "each bathroom has a functioning sink" box to close on the construction loan, so we threw it in and here it sits. Hey, at least this room has a flooring, right?
Also, that giant window above the vanity (ahem…future vanity) was a great decision. Whenever I do my makeup in that mirror scrap above the sink I can't help but smile about the lighting. It just comes pouring in around the mirror and there are no harsh downward lights or anything that makes me look more tired and wrinkly than I actually am. Best decision ever.
We just recently started using the shower here, it wasn't quite finished enough to use until last month (we've all been sharing the shower in the boys bathroom). It still needs glass and I need to clean and seal the tile, but it's usable and everything I hoped it would be. If you are building a house and wondering if two shower heads in the shower is worth it, it is.
Opposite the shower is the toilet….not much so say about that, it's a toilet. It gets a little friendly in here when someone is in the shower and the other has to use the restroom, but after 13 years and four kids the mystery is gone anyway.
And last but not least the master closet, which you enter through the bathroom.
I revealed this finished space back in January, you can read all the details about it HERE.
And that's it, the whole house! Whew!
I'll leave you with this picture of Abram, who is seven months now and followed me around to each room as I took these pictures. Try not to smile when you look at this face, I dare you.