Hot Tub Patio – Our 2019 Surprise Project
At the beginning of this year I wrote a post outlining our house goals for 2019. It had projects we for sure wanted to finish, along with projects we may or may not get to (you can read that list here). So as soon as Adam and I scratched the RV remodel off that list we started talking about what project we wanted to conquer next.
My suggestion was to finish the laundry room. We started it about a year and a half ago, and it is probably 70% finished. I would love to wrap that up, check another room off the list, and get a room reveal out on the blog. I told Adam my thoughts, and responded with "Nah, I don't want to do that. That doesn't excite me at all." Honestly, thinking about working on the laundry room didn't excite me either. I want to finish the room, but the idea of working on it doesn't make me giddy or anything.
Then he said "Let's get a hot tub." Now that…that made me excited. We don't have a tub in our bathroom, and I have been wanting to relax in a hot puddle of water for a few years now. However, we have much more pressing projects…the kitchen is missing cabinets doors and drawers, there are no cabinets or countertops in the bathrooms, and if we don't get a ceiling fan in the living room before summer hits we are going to seriously regret it. I told Adam all of that, and then he followed up his argument with one of the most logical statements that has even come out of his mouth. He said "Baby, we work too damn hard to not sit in a hot tub and sip whiskey at the end of the day."
He was right. So right. Forget kitchen cabinets and sinks in the bathroom…no one needs that noise. What we needed was a dang hot tub, like, yesterday.
And so, that it how project hot tub came to be.
So let's dig into the details of the project. First we needed a place to put the hot tub. Here is what we are working with –
Obviously, we have lots of porches….none of which were right for a hot tub. The back porch was the only logical place to put it, but since it is only eight feet deep a hot tub would take up the entire space and completely block the walkway. We also wanted it to be somewhere fairly private and accessible from the master bedroom. We decided that the best thing to do would be to pour a new porch behind the master bedroom, and connect the current porch to the new porch with a set of stairs, like this….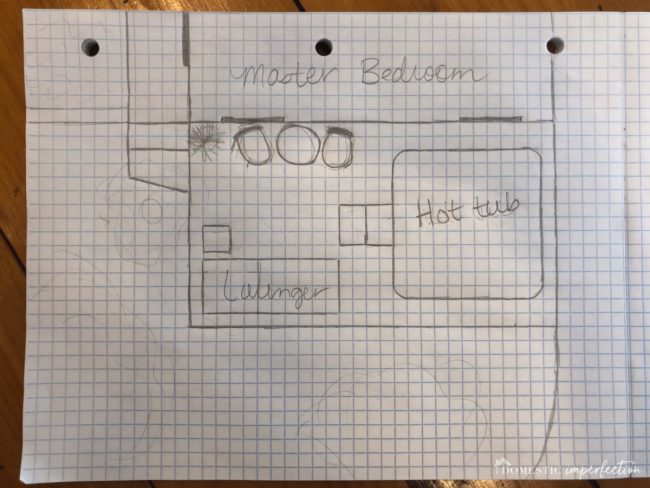 This is version number eight…it was originally much more complicated. Luckily we came to our senses and kept it simple.
You know what's funny, is that when Adam and I were designing our house, I insisted on adding french doors to the bedroom. There really wasn't a good reason for them and Adam wanted windows instead, which made perfect sense. I fought for them though, and now….well now they make perfect sense. Love it when that happens. Anyway, once we made a plan we immediately got to work. We quite literally have never moved this fast on a project…I guess that's what happens when you are excited about something (finishing the laundry room would have NEVER moved this quickly).
We quickly decided not to DIY the slab. We've done it before and it's not exactly a fun project, plus it would have taken forever. Time is our most scarce resource these days, so I started calling around for quotes. The first company I contacted gave me a quote of $4,800, and I about sit out my coffee when I saw that number. So I called the guy that sometimes does odd jobs for us….he's not a concrete guy, but I asked him anyway. He came back with a price of $800, and I said "When can you start?".
So here is what the area behind the master bedroom looked like before
Here are the forms going up –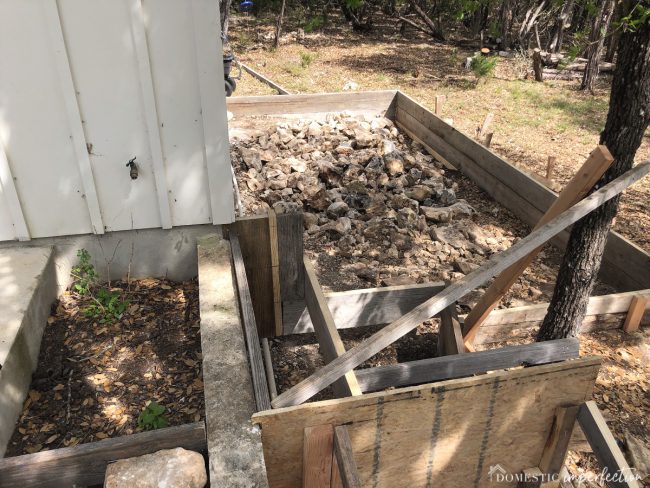 And here is what the finished slab looks like!
Anyway, that is where we are at right now. My dad and husband just finished wiring up all the electrical this weekend, and the hot tub should be here on Friday!
You may also like –
Adding a lawn and sprinkler system
Exterior inspiration for our custom home