Last time I updated y'all on the overall house progress the framing had just been finished, and it looked like this…
And now, it's looking a little more like a house. Walls! Windows! Kinda a roof!
It's actually been progressing very slowly….it just won't stop raining. As soon as the house gets dried in (which means that when it rains water won't get inside) we can get started on plumbing, electric and HVAC, but until then its kinda creeping along.
So here area a few progress photos from the last month.
After framing was complete the plywood started to go up on the exterior walls.
Over the plywood went the wrap, and once the house is wrapped the windows went in.
Then over the wrap goes the siding (and stone, soon).
That yellow stuff on the garage is our siding, it's cement board (hardie board). It's getting a board and batten treatment, which they have already started.
I plan on painting it white (well, having it painted, because NO), and when it's finished it should look something like this…
.
I can't wait.
.
So while some parts of the house are practically ready for paint, other parts are a beautiful mess.
I think the crew has project ADD, jumping from one spot to another. It's almost like I'm building this house, haha.
.
Here are a few shots of the inside, in various stages of doneness.
.
Living room, kitchen, dining room.
Office nook
Laundry room
Kids bedrooms
Kids bathroom
Master bedroom
(a very wet master bedroom)
(Yeah, Chacos. They're ugly, clunky, and expensive. I'm a giant nerd with no fashion sense. Whatever…they're the best thing I've ever put on my feet. #chacoproud)
Garage (yeah baby!)
And the front yard, which is a bit of a mess at the moment.
It's funny because when Adam and I are doing projects and buying wood, we are so careful to use it all and not waste anything. We stand in the isles of Home Depot with our phone calculators, making sure we are getting the best deal and just the right amount. But then when we're building a house…so much waste. It's just the way it is. Adam keeps going through the piles and pulling out the useable stuff for future projects (like building a chicken coop).
Plus he's just trying to clear the piles so we can cut in our driveway (I think we're getting a dumpster soon?).
The current driveway is thin and windy, and really hard to back out of or turn around in. The plan is to bring the driveway around as a circle drive and connect it back up at the entrance. The new driveway will cut across in front of the house, and between the driveway and the house we will put sod and a path to the front door. I can see it in my head and it looks awesome.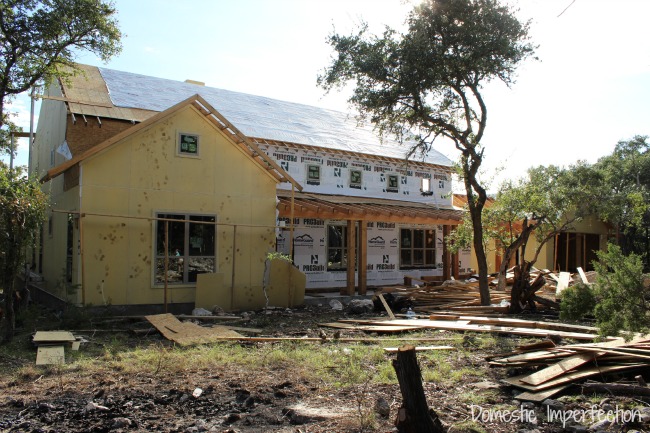 So last weekend we had a bunch of family out for pizza and beer….and working, of course. We cleared most of the cedar from the front part of the property, which now means I can take a picture from the front of the house and not just over by the garage. YAY! It's the little things, y'all.