I think my favorite week of the whole year is the week between Christmas and New Years. I love Christmas, but it's nice to have all the chaos behind you and a fresh new year in front of you. Plus, it's the only week of the year where it's not only okay to be lazy, it's actually encouraged. I'm happy to report that I've slept in past 8 am every day since Christmas. I feel like a new person.
Anyway, enough chit chat…let's get to the good stuff. Check this out…
The house is painted!
It was finished a few days before Christmas, and I'm happy to report that Adam and I both love it. It's clean and bright without being blinding, and gives the house a classic farmhouse look that we are going to put our own rustic spin on. Also, after all my window shopping and fuss over getting dark bronze/black windows, I actually think the clay colored ones turned out to be a better choice. I like that there is a contrast between the windows and white siding, but it's subtle and not in your face.
The color is Shoji White from Sherwin Williams, here it is in the lineup of all the colors I tested.
It's so pretty, I honestly couldn't be more thrilled with it.
Here is a shot from the same angle nearly two months ago.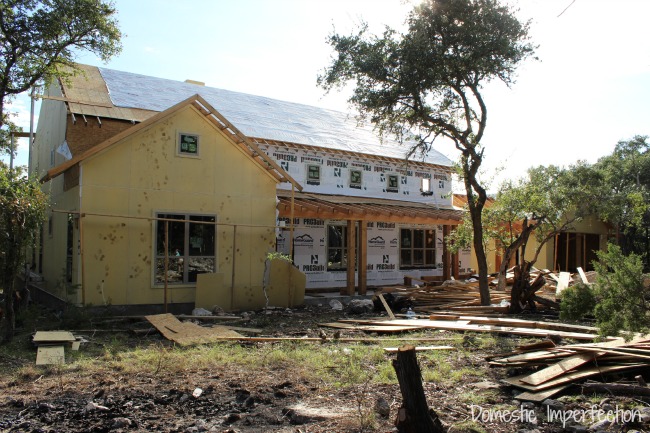 and three months ago.
Ahh, progress.
So the siding is Hardie Board, which is a masonry siding (basically concrete sheets), and we got it in a smooth finish. The board and batten is a spaced 12 inches on center with 1 1/2 inch batts.
I can't really think of anything else to write between all these pictures, so I'm just going to shut up and let them do the talking.
After a bit of slow going things have really picked up in the last week or two. The roof is about halfway on, door frames are going in (which Adam is doing), beams are going in, we are trying to finalize our rock selection, and all the little fixes are getting fixed before the inside gets spray foamed next week. The updates should be a little more frequent from here on out!
Happy New Year everyone, see you in 2016!