Christmas House Tour, Domestic Imperfection Style
Merry Christmas Eve! I'm sure everyone is busy preparing for tonight and tomorrow, but I thought I'd finally pop in with my house tour just in case anyone is online.
I don't know if y'all saw all the holiday house tours this month, but there are a ton of them. Evidently house tours at Christmas are a big thing in the DIY blog world. I have sifted through and looked at most of them, and I have to say…I'm impressed. Everyone's house looks amazing, festive, cozy, and beautiful. Picture perfect. Each one of then looks like a dreamy place to spend the holidays. The big house tour parties are hosted by Jennifer Rizzo, Just a Girl, and The White Buffalo Design Company, each one is a parade of DIY blogger homes. There are over a hundred of them. Allow me to show you a few of my favorites…
This is Carmels living room over at Our Fifth House. Isn't is breathtaking? Traditional red, green, gold, and silver Christmas decor is my favorite, and she does it so well. I love that gold trunk and cowhide ottoman too, I'm digging the whole "country glam" vibe.
Look at this flocked tree over at Four Generations One Roof. Amazing. Flocked trees are the best.
Ella Claire has s flocked tree and red accents in a country cottage. I think I love her.
No, this isn't a magazine, this is the living room of Laura at Finding Home (and it's flipping amazing).
This next one isn't traditional and red, but it just might be my favorite. Traci from Beneath my Heart must have had me in mind when she created this area.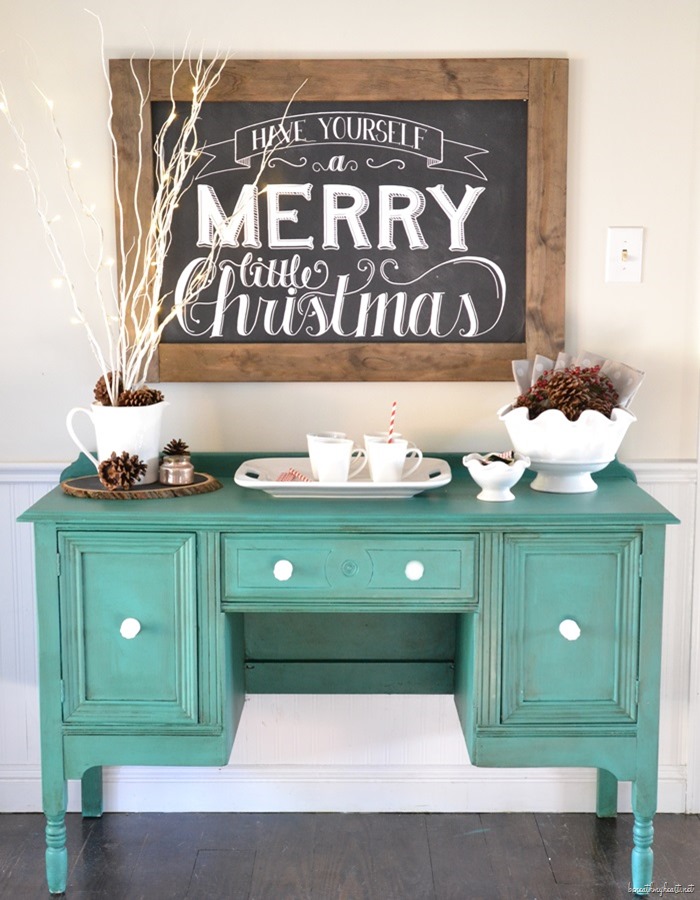 I pretty much think that Kelly from Eclectically Vintage has the best mantel sign ever.
Hymns & Verses decked out her porch for Christmas. Oh you know, just little of this and a little of that…no big deal.
Now it's my turn. You might be thinking that after I posted a few Christmas crafts last week that I would have some stunningly beautiful house tour for you. Not quite.
This was one of the pictures I showed you last week…
But this one is far more accurate…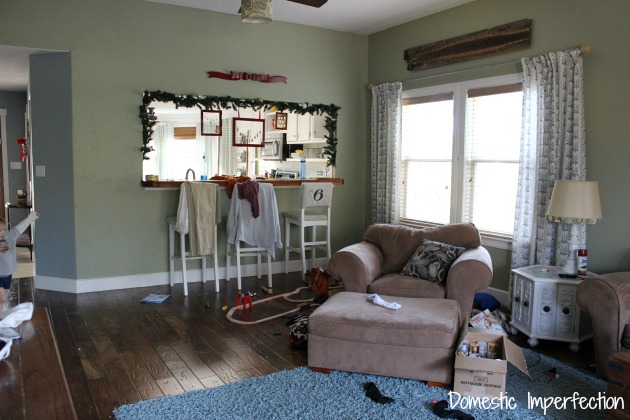 Every good Christmas house tour has a money shot that includes the tree, and mine is a good Christmas house tour.
The kitchen, well…I use it. (For storing spray paint and spotlights, of course.)
I could tell you that it was clean a few days ago and you just missed it…but that would be a lie. Anyone else have a love/hate relationship with packing peanuts?
You can either immediately throw them in the trash before your kids spot them….or you can let your kids make a giant mess in hopes that they will forget about you for a while. The mess is always worth it at our house.
Here's the current state of my boy's room. They have spent the last week sick and throwing up, so instead of inviting those ticking time bombs into my bed I made a pallet and slept in their room.
I may have been uncomfortable, but my sick boys slept like logs knowing I was in there with them. Worth it.
Even though those other house tours are beautiful and inspiring, doesn't seeing my mess make you feel kinda warm and fuzzy inside? Like perhaps you're not failing at Christmas after all? Maybe next year I'll put together a real Christmas house tour…but if that happens just know that behind the scenes my house (just like all those other blogger houses) is a lived in mess.
Let's take a closer look at the tree though, cause I did accomplish that.
So our tree isn't a beautiful flocked work of art…it's just a small, fake, pre-lit tree. It's heavy with ornaments on the bottom and I don't have anything to put on the top. It doesn't have a pile of wrapped presents underneath because I haven't gotten around to wrapping a single gift yet. Still I don't think it looks too shabby, considering.
We don't have a mantel, so I hung our stockings on the curtain rod. My mom made each one of these, mine when I was a kid, Adams when we got married, and the boys after they were born. Do you like how they get a little crazier with each addition to the family?
Let's take a closer look at some of the ornaments, just for the heck of it. You know those trees that are full of beautiful, well-planned, coordinating ornaments? Our tree isn't one of those.
What even is that first one? A bearded, smoking, kilt wearing troll? It's been on my parents tree since I can remember and I claimed it when I moved out. That swan? same story. It's hideous. I painted that cat back in 1987, and "Quail Man" is for Adam since his nickname is Quail.
And then there are a few photo ones…
When we hung that first one on the tree this year I asked Elijah who those people were and he said "That's mommy….and that's Levi!" I don't think he quite understands where babies come from yet, lol. Levi and my brother do look eerily similar, in his defense. That little gold ornament is me as a baby, and when I was a kid I would put it in the hand of the angel on top of our tree just to annoy my brother. He would eventually spot it and hang it in a less prominent place, then I would find it and put it back in the angels hand… and so on and so forth. Good times.
Let me tell you a little backstory on the actual tree. I bought it just after Christmas in 2006, when we lived in New York and Adam was in the Army. We lived in a tiny 350 sq ft apartment, and Adam had been deployed in Afghanistan for nearly a year. He was scheduled to return in February, which meant there would be no Adam for Christmas. So I decided that we would just postpone Christmas till when returned in February. I had a great name for our late Christmas, but for the life of me I can't remember what it was. Just know that it was good. So I bought this tree after Christmas at the PX (Army Wal-Mart, basically) for like $8 or something ridiculous.
When Adam finally returned home safe in February I had our little apartment all decorated for Christmas. Now Adam and I aren't really gifts people, in fact we have a deal that there is no expectation for us to buy gifts for each other for any occasion (like Christmas, birthdays, anniversaries, whatever). We still celebrate, just not with gifts. But I had missed him so freakin much that year that I wanted to show my love in every way possible, including gifts. So I went crazy. Well, crazy for two young, broke, super practical newlyweds. I don't remember what all I bought him, but I DO remember buying a (used) series of books (cause back then we had time for stuff like reading) and wrapping each one individually. I also remember buying him new undershirts and underwear (aren't we fun?!), opening the packages, and wrapping each and every one. Anyway, he had a huge pile of gifts…that probably added up to less than $50. Haha, deployments make you a little crazy… as does 6 months of intense winter in upstate New York. When you put those things together you find yourself wrapping underwear individually to try and impress your husband.
Anyway, I want y'all to know that if you don't have a beautifully decorated house, it's okay. If you didn't get out Christmas cards, bake up a storm, or have any time or desire to keep up with an elf on the shelf, that's okay too. You are not a Christmas failure. Or maybe you are…but I'm right there with you :) I know that this time of year means different things to different people, but to me it means celebrating the birth of a savior. And you can celebrate that even if you don't have extra money for gifts or get to be near family and friends. You can celebrate that no matter what. Because Jesus loves you no matter what. And who knows, you may just look back on your tiny Christmas, in your tiny cold apartment, with your tiny tree, when you gave your husband piles of individually wrapped underwear and think "you know what…that wasn't so bad after all."
Merry Christmas