2012 Resolutions and "Loose Goals" for 2013
Last January I posted my "Less Mess" resolution and made it my goal to clean up my messiest spaces. I even threw etiquette to the wind and showed you pictures of my messes in all their glory. Well 2012 has come and gone and I should be living in an organized paradise. Should be, being the key word. Lets see how I did…
The Pantry, then
 The Pantry, February
The Pantry, now
I organized this back in February and I am happy to report that it still looks great. Unlike other areas of my house, once I organize this it is incredibly easy to keep that way. Ahh, it's so nice and so functional.
The Junk Drawers, then
The Junk Drawers, now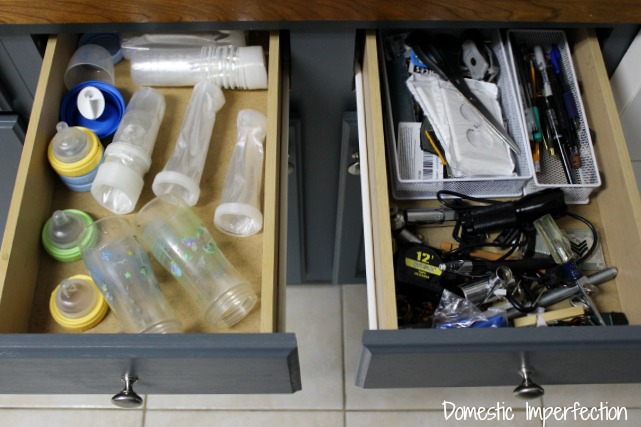 I went through these suckers back in January and found some crazy random stuff. They look better than they did, but they didn't stay neat and perfect. Thats okay I really like having a place I can scoop all my countertop clutter into and not feel guilty.
And that is where I stopped. Yup, I organized through February and then totally dropped the ball. In public. Lets take a look at the rest of the spaces that were on my list…
The Linen Closet, then
The Linen Closet, now
It's actually a little better, but certainly not organized bliss. And it's still pink… the last stronghold, some would say.
Shelf that collects everything in our bedroom, then
Shelf that collects everything in our bedroom, now
Just as bad, just as ugly. I never did find a piece to replace that cheapo shelf with and I certainly didn't organize the shelf we have.
The Craft Closet, then
The Craft Closet, last week
The Craft Closet, today
Up until last week the only thing I had done with this closet was remove the doors, which instead of motivating me to organize it only allowed the mess to come spilling out into the rest of the bedroom. So this was actually going to be the most disgusting failure of them all, until  I realized I was going to have to write this post up and fess up to the fact that I'm a slob. I'm still fessing up, but I did spend a nap time slightly organizing it last week in hopes that y'all would be mildly impressed.
So as you can see, I big time failed at keeping up with my 2012 resolution. So this year…no resolutions. Instead I have some "loose goals" for 2013, and if I don't get around to them that will be totally okay. I do have a lot (like A LOT) of things I want to get done around the house this year (including organizing these spaces) but if I don't them I'm not going to feel bad about it. My list for 2013 is so big that it will take a few years to finish anyway. I'm not going to post every tiny thing on my list, but here are some of the highlights…
*finish the kitchen already
*ditch out current entertainment center and DIY a new one with actual storage
*remodel the master bedroom – floors, walls, furniture, decor…the whole shebang
*same with the boy's room – complete overhaul
*work on the backyard and make it useful – playset and garden, maybe even get some grass
*organize the garage and craft closet, for real
*get a real file cabinet and organize all our paperwork
*get the front porch decorated and functional
*finish the hallway gallery wall. I started this about six months ago and it has been sitting neglected ever since – it's time to finish
I think its safe to say that I won't have any trouble staying busy this year :)  I'm super excited to get started on the two room overhauls, those are the most fun of all. I already know exactly what I'm going to do with both of them.
Anyway, that's my recap….how did y'all do with your 2012 resolutions? Did you get everything done that you wanted to or did you fail miserably like I did?