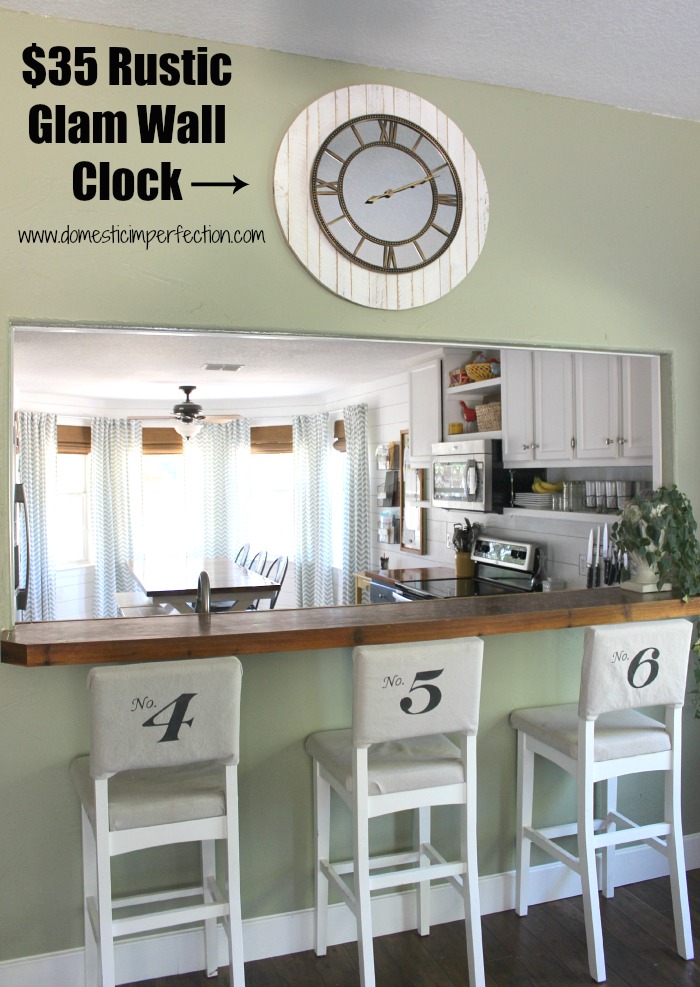 For years now Adam and I have had this ridiculous bedtime routine. We put the kids to bed, and after that we pretty much just veg on the couch, snack, talk, and binge watching whatever we are currently binge watching on Netflix.
Then comes that time where it's starting to get late, and Adam asks me "what time is it?" He's super responsible at bedtime and goes to sleep at a completely reasonable time….me not he other hand, not so much. When I'm not 38 weeks pregnant and exhausted I usually start going through pictures and writing blog posts when he goes to sleep.
Anyway, after he asks that inevitable question we both look around the room, as if expecting the time to flash before our eyes. But we can't see the oven clock from the couch, and neither one of us is volunteering to get up and go look at it.
me: "I have no idea what time it is"
Adam: "Well, check on your phone"
me: "I don't know where my phone is"
Adam: "WHY do you never have your phone"
me: "I don't know…just check on your phone"
Adam: "crap, I swear it was right here next to me…"
me: "Hmmm, interesting. Well when you find your phone can you call mine?"
Adam: "Yes, but I still need to know if have to go to bed…grab that laptop."
So I grab the laptop, open it, wait for it to load, check the time. "It's 10:08, so we can finish this episode."
Adam and I are not lazy people…except when it comes being productive after the kids go to bed or buying a wall clock, evidently. That's just too much to ask.
So when Better Homes and Gardens informed me that this months challenge theme was "rustic charm" I decided it was time to finally bite the bullet and buy a clock already. Fortunately BHG at Walmart has a ton of wall clock options (this isn't even all of them)….
1 /2 / 3 / 4 / 5 / 6 / 7 / 8 / 9 / 10 / 11 / 12
My favorite by far was the distressed gold mirror clock for $35 (the most expensive one, of course).
Although this clock is great on its own, I wanted it to be bigger and more rustic. Fortunately this was a pretty easy (and free) problem to solve. I started at the stack of scrap wood in our garage…
(okay, so maybe we're also lazy when it comes to cleaning the garage.)
I pulled out an armload of cedar planks and set them up in the yard to get painted. Then I told the boys that if they cleaned up ALL of their toys and puzzles (oh my gosh, the puzzles! WHY do they have to do them all at the same time?) I would let them paint the planks for me.
They're so innocent…they have no idea that I'm rewarding a chore with a chore. It's like at dinner when I tell them that if they eat all their broccoli I will give them a handful of blueberries. These are the times when I feel like I can actually succeed at this whole mom thing.
Their painting was a sloppy mess, but it didn't matter since I was distressing the planks anyway. I just used the orbital and went over them lightly.
Then I grabbed a scrap piece of plywood and started glueing the planks to it, putting glue on the back and both edges. If you don't have a messy garage full of scrap wood to use, you could do the same thing with free pallet wood using this tutorial.
Next I clamped it all together and weighted it down so everything could dry. Ignore the plywood circle, that's just me messing things up before I get them right.
I waited a full day for it to dry, cut out the biggest circle I could with a jigsaw, and mounted it into studs on the wall.
Then I mounted the clock onto its new plank base, just like I would have done on the wall.
I think it looks great, the perfect mix of rustic and glam.
I have to admit though, after so many years of the whole "what time is it?" bedtime debacle, it's really weird for husband to be like "alright, it's 10:30…time for bed." Plus, now I can REALLY never find my phone.
Be sure and follow along with BHG Live Better for more great product ideas!
Facebook / Instagram / Pinterest / Twitter
*Thank you to Better Homes and Gardens at Walmart for sponsoring this post. All opinions are my own.