A few months ago Adam and I finished our master closet, which became the first finished room in the house. It was so organized and amazing that we decided to skip some of the bigger projects we had planned and instead pick another tiny room and finish it 100%. We debated doing a bathroom, the office, or the pantry, and eventually landed on the pantry.
The pantry is 3 ft by 7 ft and is situated under the stairs, which means one of the walls is shorter than the other. It's a tiny little room, but to me it feels huge for a pantry…our last one was probably 1/4 this size or less.
Even though that one was small, it was pretty much the only space in our house that was always organized. I spent some time thinking through the organization on that one, and when everything has a place things actually stay organized. The trick for me was getting all the pantry items out of their original packaging and into clear containers that were easy to see and stack.
Anyway, enough about the old pantry…lets talk about this one. Here is a before picture with its temporary shelf and no door….so other words less of a pantry and more of a toddler play area. I can't wait to be able to shut the door and keep him out.
And here the mess inside …
So Adam and I went to online (to Houzz, mostly) to find some pantry inspiration. The first thing we decided we wanted was counters…
                                                                                                  .
At first I didn't really see the use in making counters (it's not like I'm going to be doing any cooking or prep in there), but Adam said that with counters I could come in with all my groceries, plop them on the pantry counter and unload groceries right into their proper containers. I thought that sounded a heck of a lot better than going back and forth a million times, and I was sold. Counters it is.
                                                                                                   .
The next thing we decided to add was drawers…
                                                                                             .
They won't be nearly as fancy as those, but I would like one for breads, one for potatoes, one for onions, and one for bags of chips.
                                                                                            .
And lastly, we definitely wanted a ladder…
Haha, just kidding! This is the real world, where I will not be swinging from a ladder to retrieve my seltzer water or collection of vases or whatever else is in that fake pantry.
 No, what we got out of that picture was beadboard, we want beadboard. Now beadboard on the back of your pantry wall seems completely unnecessary (and it is…not ladder unnecessary, but still), but I believe it's the little details that turn an otherwise nice house into something truly unique and special. Plus it only cost like $40, so…worth it.
                                                                                                       .
Anyway, here is what we sketched up as our plan –
Basically lots of shelves, counters, drawers, and that big hole in the center will be a chalkboard for a running grocery list.
                                                                                                  .
So, step one – add beadboard. (I apologize in advance for all the terrible pictures…it's really hard to photograph a tiny pantry with no natural light.)
                                                                                                .
 Step two – add floating shelves.
                                                                                              .
Adam installed them with the
Kreg Jig
so that they would be "sleek and sexy". He attached them from the top of the shelves above eye level and the bottom below eye level, making sure each screw hit a stud. The result is super strong shelves that you would think are staying put by sheer determination.
                                                                                              .
Step three – add face frames.
                                                                                                            .
These are just thin strips of wood brad nailed to the front of the plywood shelves. It not only makes them appear thicker, but also gives the shelf a little lip on the front so that nothing comes rolling off.
                                                                                                            .
Step four – caulk, prime, paint.
                                                                                                 .
This part takes forever, but look how pretty!
                                                                                                 .
Step five – Organize all your food and put it on the shelves. Woohoo!
                                                                                                       .
Like I said before, taking the food out of the packages and into clear containers made all the difference in the world for
our last pantry
. After I did that things stopped getting pushed to the back and forgotten/lost (and I stopped buying doubles by accident), and the pantry pretty much stayed organized on its own. These
clear containers are from Better Homes and Gardens at Walmart
and work excellent. I have some canisters leftover from the last pantry that are a different brand, and these work exactly the same and are less than half the price.
                                                                                                       .
The other side is all the stuff you can't put in clear canisters.
                                                                                                       .
It's not as beautifully organized as the other side, but there also isn't that much if it so I don't anticipate things getting lost or forgotten. It helps that the shelves aren't that deep (12")….deep shelves are a pantries worst enemy.
                                                                                                       .
A few more pictures…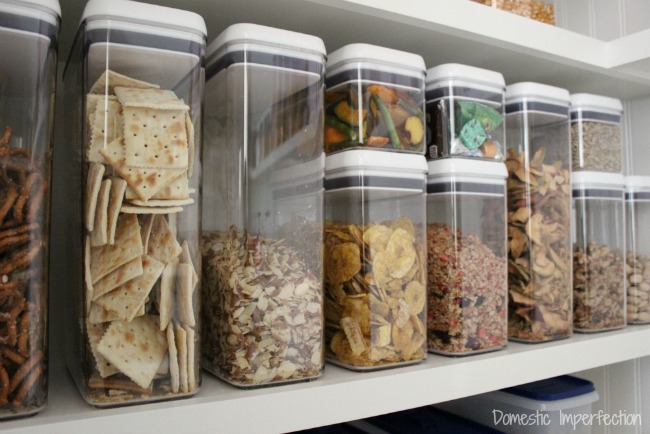 (It looks pretty empty from the front view, but the chalkboard will help).
                                                                                                   .
So that is part one of the pantry remodel, now we just have to tackle the bottom section.
                                                                                                   .
                                                                                                       .
Better Homes and Gardens products used in this post –
For even more inspiration follow Better Homes and Gardens at Walmart on Instagram, Pinterest, Twitter and Facebook.
*This post was sponsored by the BHG Live Better Network. All opinions are 100% my own.