Building the Deck, Part I
First things first…let's start with a before picture.
So our backyard….it's ugly. There's no denying it. It is so full of rocks that I'm at a complete loss at what do with them. For the last five years we've been picking them up and using them in landscaping, but I swear they reproduce at night when I'm not looking. Anyway, right outside our back door there was nothing. Well, not nothing…there was toys, dirt, and welcome mats (which were my sad and unsuccessful attempt to keep the dirt out of the house).
I decided that deck would significantly help our backyard, and my husband agreed to build one. His actual words were "Okay, but no one is going to sit out there, it's too ugly." Challenge accepted.
We started building it in July, abandoned it when Texas became an inferno in August, and just got to this stage a few days ago…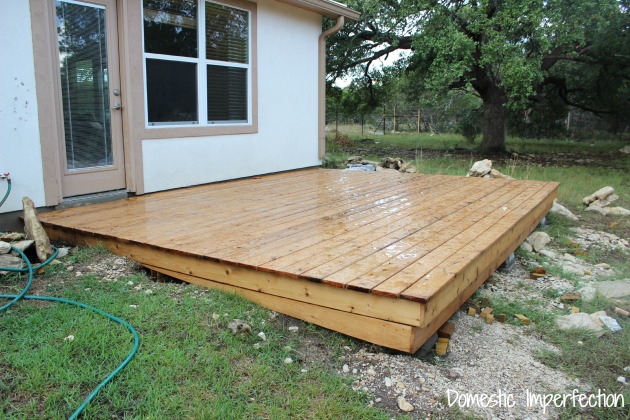 Sidenote – it's raining! Finally!
The deck isn't finished (I'd say it's about 60%), but it's functional. It still needs a built-in-bench, steps, and a table and chairs, and some landscaping. And a string of outdoor lights, of course.
#wishfulthinking (source)
Neither Adam or I had ever built a deck before, which is why this isn't going to be a tutorial…there are plenty of deck building tutorials out there from people who actually know what they're talking about. What you're going to get here are pictures of us working and less than helpful commentary.
I wanted simple deck plan (just a 12×16 rectangle) and we special ordered cedar from Home depot for the decking and bought treated pine for the structural supports.
First we dismantled the failed flower bed and we smoothed out the surface (revealing mountains of limestone dust – and I though dirt was messy), then we invited people over to help us build the deck. This is a very important step, don't skip it. Successful execution of this step may also require buying lots of beer and barbecue.
The first support the boys added was a 2×6 that was anchored into the cement foundation. It took the strength of three men to drill into the concrete…I'm sure it was the crappiness of the drill, not the strength of the men that was causing it to be so difficult. Mmmhmm…
The area under our back door sticks out a little, so it got a separate piece.
Yeah, our foundation (or maybe it's our door) is really crooked. I suspect the people who built our house may have overdone it on the beer and barbecue.
Next was digging out holes where the concrete blocks would go and making them level and secure. I think this was Elijah's favorite part. That kid loves work.
Next came the beams, which the boys made by attaching two 2×6's together to make a 4×6, and Adam had to cut the concrete blocks wider so they would fit.
Then the beams went in.
…and Elijah continued to work.
Next came the joists, which were secured to the piece of wood bolted to the house and the two beams that run parallel to it. The ones up against the house were secured using metal brackets…
and the others were secured using the Kreg Jig (which is the same tool we use for building tables and other furniture.)
How cute are all those boys working? Adam's over there in his super attractive boonie hat, Elijah is wearing his construction helmet like a responsible little worker, and my dad is patiently teaching him how to build while wearing his reading glasses over his sunglasses.
And with that we had a completed deck frame. One step closer to having a useable backyard!
Later this week I'll have part two – laying the decking. That's the easy part.