One of a Kind Double Barstools
Alright, let's skip the fluffy intro and get right down to it – I've been on the hunt or barstools for the island. Originally I had my eye on these from West Elm…
They cost $199 a pop and I needed four, so with tax and shipping came to nearly $1000. I stalked them for awhile, but even with the best sale + coupon + rebate combo I couldn't justify spending that much money. Besides, I had and idea…
Instead of getting four barstools that will never be pushed in just right and always look messy (I know this because of how the kids treat the dining room chairs), why not make two 2 seater stools instead? I think they will stay in place better, plus they will look more streamlined and seat just as many. So I measured everything and came up with the dimensions that would fit just right.
I showed Adam my plan and he really liked it…though he was quick to point out that it wasn't to scale despite the fact that I drew it on graph paper. He is the king of sketching everything perfectly to scale, and I am but an impatient, math-hating graph paper destroyer.
So we hired a friend to weld them up for us, and he charged us less than what it would have cost to buy ONE of those West Elm barstools. Score.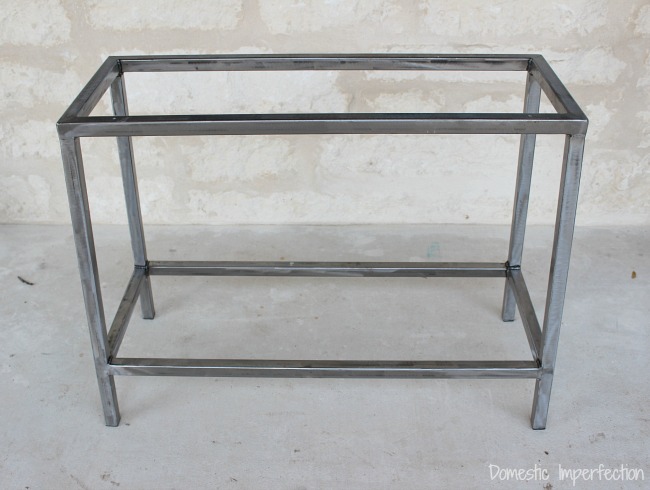 (Although, they are a little less flared than I anticipated…should have drawn them to scale, haha.)
So pretty though…
Next we had to decide how to finish them. Adam wanted to put a piece of rustic wood on top, which would be really beautiful….but our countertop is wood, and eventually both the ceiling and floor will be wood – I think we have met our wood quota in the kitchen. And despite the fact that the original barstool I liked had a wooden seat, I told him I wanted to upholster it. He said "Okay, but the kids will probably destroy it in a hot second. Just don't get anything too colorful and annoying, just a nice solid fabric." Gah, he knows me too well, I was totally planning to get something fun and colorful and bring all the colors I have have for the house together. Anyway, I semi listened and picked out this simple stripe fabric from Online Fabric Store.
Then I bought an iron-on vinyl to laminate the fabric and make it wipeable (and hopefully withstand the destruction and chaos of four little boys).
It was really easy to do and turned out great…I was feeling pretty smart. While I was working on it my two big boys came running in and asked "Mom, will you play Crazy 8's with us?" "Yup" I said, "Just let me finish laminating this piece of fabric first."
Elijah – "Okay Mom!"
Levi –
Haha, that kid (we've seen this look before).
So next I did the upholstery. I used two-inch foam and medium weight batting since I wanted it to be nice and soft. (Also, foam tip – it is way easier to cut foam with a serrated knife than scissors.)
(If you are looking for an actual tutorial for upholstering a chair or bench see my post HERE.)
I finished one seat and put it out….and a week later the lamination was already falling apart.
Dang. it.
So I ripped off the lamination and the stools are now going commando. I slathered them in Scotchgard and we will see how they hold up, but Adam took one look at them and said "Just tell me when your ready for that piece of wood."
I love them though, and the two-seater idea actually functions really well. They are plenty spacious for two people (even adults) and they look simple and uncluttered. They don't ever move actually, the kids just climb over the back and sit down and don't have to drag them around to use them. Perfect.
Here is a shot of the overall kitchen so far (yeah…some of the Christmas decor hasn't made it down yet.)
I love the way it's headed, but we still have a long way to go until it is finished. We need to finish the cabinets, install a backsplash, trim the window, make a roman shade, finish the pantry and door, cover the vent hood, add the wood ceiling, the wood floor, decor….whew.
Also, sidenote – I was recently interviewed by Online Fabric Store, click here to read it!