$5 Built-In Magazine Rack
 I have another bathroom "mini project" for you today. This on is easy, cheap, and useful… the trifecta of DIY goodness. It may actually cross over to superfecta status, which also includes being attractive. This isn't the most beautiful thing I've made, but it at least qualifies as non-ugly. That's a win in my book.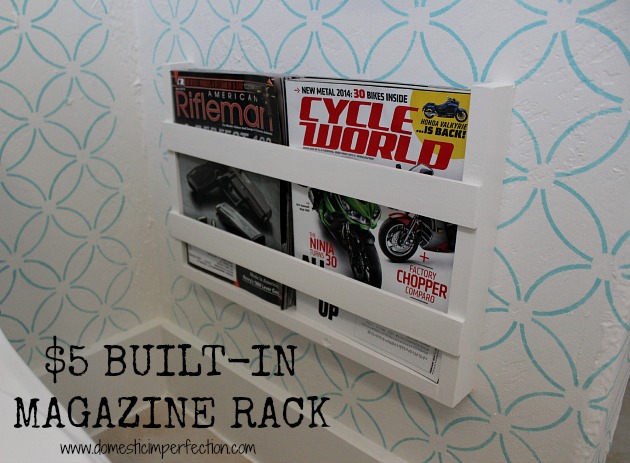 The only supplies you will need is a 1×2 (which is a dollar for raw and about $3.50 for pre-primed) and a yardstick (which is like 64 cents at Home Depot). So pretty much no matter how you go about this, your cost will be less than $5. Although I also used a few screws, wood glue, paint, caulk, and tape…I'm assuming most people have those things on hand though. Oh, and a saw and a sander. This is sounding more complicated by the second, isn't it? I swear it isn't.
The first step is to cut and attach the 1×2, like so, with a few screws going into studs. The bottom piece is 16 inches, and the sides are 11 1/2.
Then tape and caulk the edges…
Next paint everything, including the yardsticks. I sanded these down to get rid of all the measurements.
Then attach the yardsticks using either brad nails or wood glue, do some touch-up painting, and voila…you have yourself a built-in magazine rack.
Here it is, stuffed full of magazines about motorcycles and guns. It holds about ten magazines, but not my husbands' current war novel that still sits on the half wall. He's such a boy. Also notice that there are no girly decor magazines in this rack…that's because reading on the toilet is a mans luxury. Do you know what happens when I try to sneak away for a few seconds just to pee? I get hunted down by little boys asking if they can sit in my lap. No, you may not sit in my lap…stop being weird.
See that little head in the above photo? He's checking to see what I'm up to and wondering if it would be a good time to ask for snuggles. So sweet…so awkward.