So….front doors. It's one of the first things people notice about your house, one of the first thing that tells visitors anything about the people who live inside.  Our door didn't tell people much…it didn't tell them that I like color, nor did it tell them that Adam is a wood snob. The only thing our front door really told people is that we have a dog that likes to scratch. Except that we don't.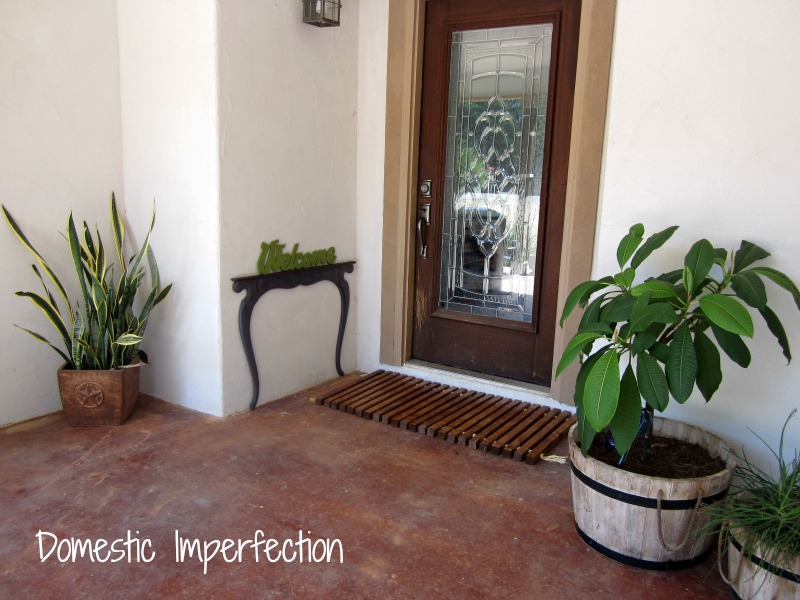 Now it IS a nice door… but the finish was terrible, scratched to pieces, and looks like a dark hole from the street.
Earlier this summer I did a couple posts about our front yard and porch and asked y'all what the heck I should do about my eyesore of a door. The overwhelming response is that I should paint it, and ya'll suggested every color of the rainbow.
I thought about it for a while and narrowed it down to either red, blue, or refinishing the wood. Then one day Adam and I were taking the boys for a walk around the block and I started paying attention to everyone's front doors. I started to notice a trend…no one around here is very bold with their color choices. Around the whole block there were only three different color doors…wood, tan, or red. But not bright red, more of a brownish red. Us country folk really like things to be the same shade as dirt, evidently. That's when I decided that blue was my color.
Then we waited four months for the weather to cool down enough to remove the door for a day. Patience is a virtue, patience is a virtue…
October hit and so did 80 degree temperatures, and off came the door.
I only wanted to paint the outside of the door, the inside was going to be refinished wood. Adam sanded it all down and put on a coat of tung oil, and it looked pretty. Like, really pretty.
So we lugged it back to the giant hole in our house so Adam could try to convince me not to paint it.
I almost agreed because it looked so dang nice. Who knew there was beautiful wood hiding behind all that ugly dark stain?

But atlas, I wanted blue. I wanted color. I wanted a door that wasn't a color similar to dirt.
So I painted it Aspiring Blue by Behr (same as the porch tables and laundry room cabinets), and it was crisp and beautiful.
The end.
.
.
.
Except that this isn't that blog, the blog where everything goes right.
Here is what actually happened after the door looked crisp and awesome. The paint I used was an eggshell, and I thought it needed a protection to hold up to the outdoor elements. I was out of my beloved polycrylic, but Minwax had sent me a can of this…
Water based, oil-modified polyurathane…whatever that means.
Normally polyurathane is oil based and great stuff, but it yellows on painted surfaces and I only use it on wood that needs to take a beating. Polycrylic is water based, easy to work with, and doesn't yellow. It's not quite as bulletproof as polyurathane, but it's what I usually use as a finish. This can was a weird combination of both. Being an optimist I figured it would be the best of both words – bulletproof like polyurathne but non-yellowing like polycrylic. So I slapped on a coat.
The next morning I went to photograph the door and discovered that not only had it yellowed, it yellowed at warp speed.
Well…crap. I didn't want to take the door back off and sand it, so I decided that no one would notice but me. So I left it.
Then Adam noticed. And his brother Taylor noticed. And when the door-to-door evangelists noticed I knew I couldn't just leave it.
Still rebelliously avoiding sanding I decided to stain right over the poly (paper bag floor style) and turn it into a dirty cowboy masterpiece. If I hated it I could always sand it down, just like I would have had to anyway.
So I gave it a few layers of stain with a brush and a rag (tutorial here) and decided it didn't look half bad.
Then I gave it a coat of polycrylic to seal the deal, caulked, and painted the trim a shade lighter than it had been.
And here it is!
The trim being lighter was a color matching mistake, but I actually really like that my browns don't quite match. It gives the door another layer of interest.
Here is the before and after…
..and all three so you can properly judge it.
Now the inside.
Hold on, I can do you one better…
So there you have it, my colorful blue front door that somehow still managed to be a shade similar to dirt.
It's the curse of the country I tell you, dirt colored front doors.