Crazy Easy Folded Pillows
I've posted a few insanely easy projects over the years, but the one I have for you today takes the cake. I like to call it the "one minute pillow" because you can literally make it in under a minute (unless you have to take pictures of it for a blog post, then it takes significantly longer). There's no sewing, no gluing, no buying pillow forms, and no commitment.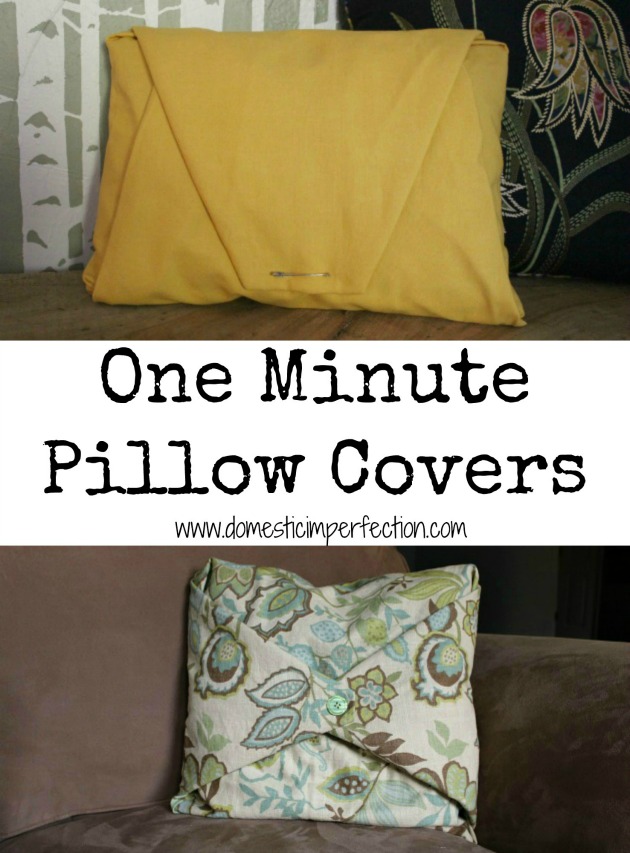 Here's the (crazy easy) tutorial…
First step, grab a pillow from somewhere in your house and a piece of fabric. Ideally, your fabric should be a little over twice as tall and three times as wide as your pillow (or larger – some of mine were HUGE, because I didn't want to cut the fabric).
Fold the top and bottom over the pillow.
Then fold the corners in like you are wrapping a present.
If you have thinner fabric then you can just pull the two sides together and tie. Instead, I kept folding…
And then I secured everything with a safety pin.
(You could also use a brooch, that would look even better and still be no-sew!)
SO EASY.
After I made that first one I got the itch to make another…so I did.
I have a ton of buttons left over from my giant button monogram, so I sewed one on the front to hold it all together.
Then I had a light bulb moment…holiday pillows! This is PERFECT for that kind of stuff. Christmas is coming, and although it would be fun to line your furniture with Christmas-y goodness, buying pillows is expensive, making them is time-consuming, and no one wants to store that stuff 49 weeks out of the year.
I didn't have any Christmas fabric on hand, but I did have some red and a graphic green.
BAM, insta-cheer. Holiday goodness in two minutes flat.
Don't over think this…there are no rules. Fold it and secure it however you want…I even saw a folded pillow on pinterest that was secured with a belt! The hardest part of this tutorial is giving yourself permission to display pillows that barely cost you any time or money.
You may also like –
How to make an envelope closure pillow