Living Room Updates and Source List
Our living room isn't one of those rooms that is going to have a clear-cut start and end date. It's a room that will simply evolve over time, and one day we will look around and realize it is finished. That day definitely isn't today, but there have been quite a few living room updates happening recently! The last time I showed y'all the living room was about six months ago (Setember 2017), when it looked like this…
And here is now, a little more evolved and a little less ugly (April 2018).
Quite a bit better, right?
A majority of these changes are just things I purchased rather than DIYed, and most of them I bought on Black Friday last year. Either that or I waited for a sale and combined a coupon code…. I pretty much don't buy things that are full price, ever.
Alright, so first up we have these two blue chairs.
I needed more seating for the living room but didn't have a ton of money to spend, and these were a great solution. They're the Coral Springs Armchair in Klein Sea from Wayfair. They come in 5 different colors, and I want to say I paid about $140 each. The cushions were a little stiff at first, but either they got softer or we got used to it, because now I think the chairs are pretty comfortable. Also, so far the fabric has held up beautifully to the daily abuse of my four boys.
The floral pillows are a DIY (this tutorial shows how I made them), but you can buy the same pillows on Amazon, or Overstock. Also, I have to mention that I have found my favorite pillow inserts EVER. They are so soft, don't go flat, aren't crazy expensive, and are sold on Amazon. Check them out HERE.
The cow ottoman is also a Wayfair find, though I tried to return it because the color wasn't what I had expected. In the pictures online it was a pretty golden brown, but the one I got is mostly black. The return shipping was crazy expensive though, I decided to keep it. It is real legit cowhide though, and as you can imagine it get used daily as a launching pad for my wrestling boys (and husband). I'd link to it, except it looks like it's been discontinued.
The biggest and best change is probably the rug. On Black Friday last year Natural Area Rugs was having a huge sale, and this 12 x 15 seagrass rug was only $339. I couldn't NOT buy it, where else are you going to get a rug that big for such an amazing price?
I had already bought a 9×12 seagrass rug from them a few months prior, and I couldn't believe how much we loved it. Not only did it get my husbands seal of approval (not easy to do, rug-wise) but I loved that neutral texture and now stain resistant and easy to clean it was. So we moved the 9 x 12 to the bedroom and got the bigger rug for the living room.
For those of you that aren't familiar with seagrass, let me try and explain it. It's not soft, and it's not one of those rugs where everyone sits on the floor for movie night. It is flat, hard and kinda scratchy. Not scratchy…that's the wrong word. It's rough and full of texture, but also kinda smooth. Are you confused yet? I think the rug feels fine underfoot, no problems there. The reason I love it so much is not only is it pretty, natural, and goes with everything, but it is SO EASY to keep clean. Dirt vacuums right up (or you can literally just sweep it with a broom), and liquid mostly just beads up. Even if it does soak in it dries quickly and completely. Nothing has stained it…. and trust me, we have spilled stuff on it that should have stained. I am definitely a fan, and seagrass gets bonus points for being super affordable.
Both rugs from Natural Area Rugs came with a free rug pad, which I initially thought was great news. Who doesn't love free stuff? But I realized pretty quickly that it didn't offer much cushion, plus it had stuck to my floor underneath…
A few weeks later I got an email from RugPadUSA wanting to see if I would try one of their pads for review on the blog. And I did…I really, really did.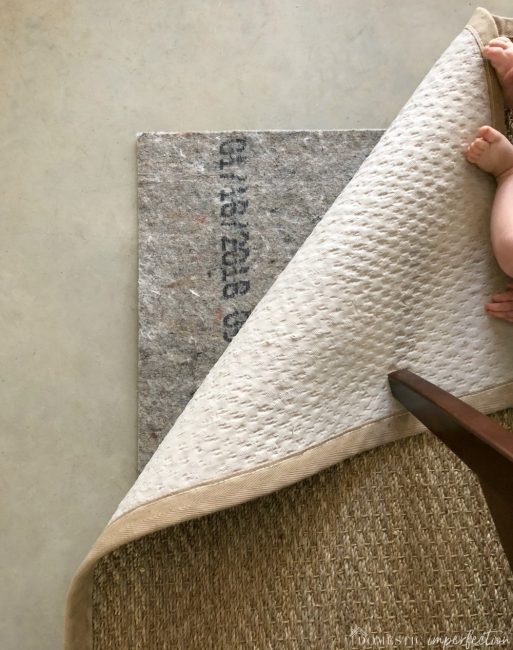 The rug pad I ordered is 1/8 inch thick felt cushion with a rubber backing, and let me tell you, it makes a big difference. Not visually, obviously, but the rug is SO much softer underfoot. Also, the natural rubber underside keeps things from shifting, but the pad doesn't stick to/ruin my floor. Also, the above picture is a terrible example, because the pad is supposed to be just 1 inch smaller than your rug. I accidentally ordered mine in the wrong size, and every time I step off of the nice soft part of my rug to the flat hard part I'm annoyed with myself for getting the wrong size. I'm going to have to move this pad to the bedroom and get another bigger one for the living room, Adam will be so excited to help me move all the furniture in two rooms again, haha.
The only thing I haven't mentioned so far is the elephant in the room…the brown corduroy couch. Yup, Big Brown is still hanging around. I have news though…. Big Brown and I are splitting up. That's right, a younger sectional has caught my eye and Big Brown will have to find himself a new family. The new one is so much sleeker and sexier….and leather. LEATHER. I can't wait to bring it home to meet the kids.
Anyway, here is a quick time-lapse video I shot of the living room updates coming together…
And here is a complete source list for the room…
Living Room Source List