Breeze Block Wall – Price, Process, and Photos
The exterior of the house is almost complete, and the very last piece of the puzzle is the breeze block wall! This is the part I've been the most excited about, since it's probably the most unique feature on the front elevation and really gives it that mid-century flair I'm after.
Before I show you pictures of it going up on my house, let me answer a few questions.
What is breeze block?
Breeze block is a decorative concrete block that was popular in the 1950s, '60s, and '70s. It is lightweight, nonstructural, and features holes for ventilation. They come in many different designs, which add texture and pattern to a space. They are most often used in warmer climates and for privacy walls on entryways, patios, gardens, and courtyards.
While "breeze block" is the most common term, it goes by many names. So if you want to get your hands on some, you will need to include the following terms in your search –
screen block
solar screen block
decorative concrete block
fence block
decorative cinder block
screen brick
pattern block
architectural block
Where can I buy breeze block?
You will have to source them locally. They used to be carried by Home Depot and Lowes, but have been discontinued. I recommend using this guide from Retro Renovation, which tells you where you can purchase them by state.
I bought mine from Best Block. On their website is called fence block and they only have one design.
What are the dimensions?
The size will vary slightly based on the manufacturer, but usually they are 1 ft x 1 ft.
How much does breezeblock cost?
The price of breezeblock is all over the map, so you will need to shop around. I paid $4.28 per sq ft (which is one block) from Best Block in their cloverleaf design.
Another popular breeze block company, Tesselle, sells a block that is the same size and design and is prepainted white for $37.99 per sq ft (one block).
Another company, Clay Imports, sells a similar design that comes in a terracotta two-block version for $15.91 per sq ft.
So as you can see, taking the time to shop the options is a good use of your time.
How much does it cost to have breeze block installed, and what is the process?
Once again, price will vary greatly depending on where you live and who you hire. I can tell you that my installation cost was $6 per square foot.
As far as the process, let's dive into that.
As a reminder, here is what the front elevation looked like on my blueprints.

At the end of the last post, I left you with a house that had been painted teal, and this sneak peek of the breeze block to come.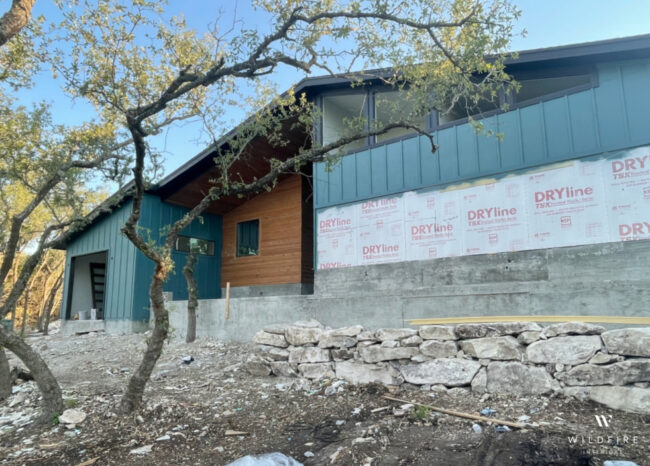 Here is a short video explaining the goal and showing progress and final results.
And here it is going up!
In order to build a breeze block wall, you have to have concrete footing to lay them on. My house is on a slope, so my concrete footer is about four feet tall and was poured at the same time as my foundation.
Then the wall is built by stacking the breezeblocks in a grid pattern using mortar. I also choose to have sold cinderblocks outlining my decorative blocks.
The cinderblocks and the breezeblocks are different heights, so the first cinderblock was cut in half to have everything lined up at five feet high.
My breeze block wall serves a few purposes –
First and foremost, it's pretty. It's different than what you see every day, and makes the house unmistakenly mid-century.
It gives privacy to the front of my house, which has more glass than I would be comfortable having without a privacy wall.
It gives definition to the courtyard/atrium/garden area and keeps the deer from eating everything in it.
And with that, we are 100% caught up on the outside of the house! All the pictures below this point are pictures I took yesterday.
The house still needs the final paint job, which is all the touch-ups and painting the breeze block wall black. Also, you can see the mess of rocks that will eventually (hopefully) be really cool landscaping. Having a sloped lot is proving to be more challenging than I anticipated, but I think having lots of natural rock retaining walls and layered landscaping to going to make for a very interesting front yard.
That unpainted yellow-ish spot on the right was the original height of the breeze block wall, but I ended up lowering it last minute because it was too much. I think it was a good call, it would have overpowered the house otherwise.
Cutting out that extra height also left me with a small pile of extra decorative concrete blocks, so I added a small wall to the back porch as well.
The wall has been up for a couple of months now, and to be honest, I'm really digging the raw concrete look. I'm still going to trust the original plan and paint it black, but I second-guess myself a few times a week.
Also, the way the blocks laid out, there was only space for one column of breeze blocks on the right side before it had to die into the cinderblock wall. And I absolutely love it. Mid-century design is casual, fun, and unpretentious. It's quirky, organic, and asymmetrical. To me, this photo (as unfinished as it is) captures all of that.
The outside of the house should be getting its final coat of paint in a couple of weeks, so I will write another post when that is complete. And now that we are caught up out here, we get to move on to the interior!
Links to previous posts about the exterior –