Instead of the usual intro paragraph, I'm just going to direct you to watch this video –
In case you can't watch the video or hate videos or whatever, here is what happened. I wanted a teal house and picked the color Sophisticated Teal by Behr for the exterior. I also chose the color Tricorn Black from Sherwin Williams for the trim color. Just the eaves and soffits, that's it. The window trim was supposed to be teal, same as the walls. So like, pretty much an entirely teal house.
The day my house was supposed to be painted, I drove to see it. Of course I did, I was super excited. When I got there, the house was already finished, the painting crew was gone…and the whole dang thing was black. BLACK.
Look at this…
It's a shadow house. It's terrible.
I realized when I went to write this post that I didn't take any pictures of it being black, I just shot a few video clips and left, because I was in a time crunch. So all I have to show you are screenshots from videos, which are not great. But you get the idea. 
The most confusing part of this paint job though wasn't that it was painted the wrong color, it's that it was painted the correct color on two random pieces on the front of the house.
So the entire house, besides these two pieces, was black…but I stood directly in front of it, I could envision what it would look like painted completely teal. I was a little nervous about this color, so this mistake was like a fun freebie preview. If I hated it I could change the color, since it had to be repainted anyway.
Anyway, I posted that video to TikTok and it went bananas….it got 4.4 million views and 17,000 comments. And guess what 95% of those comments said?
Leave it black. 
Now, old life Ashley would have let this affect her. She would have started to overthink, second guess herself, wonder if she made a bad choice, and think that maybe she's not even good at this. She would have wanted to make everyone else happy and then convince herself it's what she wanted all along.
But new life Ashley? Nope. I have a vision, I know what I want, and it's going to be awesome. And even if I'm the only person in the world that likes my choice, that's enough.
So a few days later, I had my teal house.
Once again I'm low on pictures, so here is another quick video-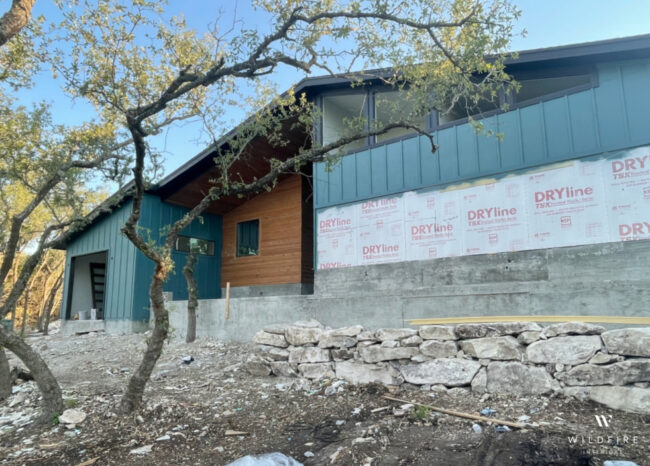 Good news….I love the color just as much as I thought I would.
Frequently Asked Questions –
On top of all the "leave it black" comments I got on that TikTok video, I also received a lot of questions. Here are answers to questions you may or may not be asking.
Maybe the black was just a primer? I get why people thought that, since it was being painted a dark color anyway…but no, that was the final color.
Why does the paint look uneven? Unfortunately, that is permanent. The paint isn't uneven, it's the texture in the hardiboard siding. I originally wanted a smooth textured siding, but because of the state of the world and supply issues, it wasn't available. So I went with textured, which had a wood grain finish. So when the sun hits it, the paint looks wonky because of that. Once again, it isn't ideal, but it is what it is.
How did the painters have enough black paint to do the whole thing? Because they bought the paint. Here is how it works – The customer picks the colors they want…any color, from any company. Then you tell the painters what you want and where. They go to their paint store of choice (in this case PPG) and color-match your selections and order it all on their account (which is way cheaper than you could ever buy paint). Then they paint the house and send you a bill.
Why did they get paint all over your foundation? It looks sloppy now, but it's standard practice. The sides of the foundation aren't pretty when you take the form boards off, so at the end of the build they do a skim coat of concrete over the whole thing to make it beautiful. Since this is happening anyway, the painters don't care about keeping paint off of it.
Did you have to pay to get it fixed? I didn't. My choices were communicated correctly, but further down the line the message got jumbled. The painters didn't argue, they were just like "Oh, that makes more sense" and immediately said they would fix it.
So that's the story of my paint job gone wrong. Next up I'll show you the breezeblock wall along the front of the courtyard, and then we will be completely caught up on the outside of the house! I'll leave you with a little teaser…