Welcome to part II of designing a modern home…which has now morphed into designing a mid-century modern home. At the end of the last post, I left you with my final floorplan sketch….the one, that after many other attempts, felt like "the one".
I send it off to the draftsman (again) and crossed my fingers that this one worked better than the last one. And…it did.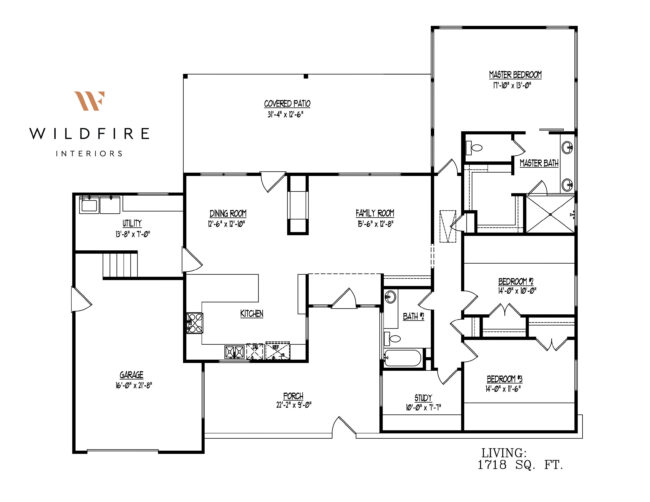 Ok,  so let's walk through it. As a review, here was my list of wants for this house –
New house wants and needs
Something small-ish, right around the size of my first house (which was 1600 sq ft).
Something that could still be considered "open-concept", but not nearly as open as my last house (a 3,000 sq ft farmhouse that couldn't have been more open).
Something different, with plenty of personality
Three bedrooms, two or 2.5 baths, and a small office
A one-car garage with room for storage (bikes, skateboards, fishing gear, tools, etc)
Check, check, check, check, and check. Yesssss.
The size is just over 1700 sq ft, which is easily big enough for the five of us, and small enough that it should be manageable to clean and maintain. My last house was 3,000 sq ft and a beast to keep up with (it was picked up but never truly clean), and the 900 sq ft apartment we live in now cleans up really easily but also gets destroyed very quickly. Hoping this will be a happy middle ground.
Let's start at the front entrance, which is the door (gate) at the very bottom of the image below.
The part labeled "porch" isn't actually a porch, it's an atrium/courtyard. It's covered under the same roofline as the rest of the house, but is full of dirt and plants, with a sidewalk from the gate to the front door. The front wall that you see is a 5-foot tall wall made out of breeze block.
You may not be familiar with the term, but I promise you've seen breeze block. They are decorative concrete blocks, and have holes for semi-privacy…and to let the breeze run through the blocks. Although when I called around to try and find some to purchase here in San Antonio/Austin, I learned that locally it is called "solar screen". Lame.
Source
I'm super excited about this courtyard wall…you never see this stuff used in my area. Also, my front entry area is mostly glass, so having a courtyard is necessary for privacy. Also, plants. Plants that the deer can't get to eat, which is a big deal around here.
So moving on. The entrance.
One of the features of MCM houses is that they have post and beam construction and full walls of floor-to-ceiling glass.
Source – Risa Boyer Architecture
Source – This Old House
As you can imagine, glass walls like this are hella expensive. Maybe not in the 1950's, but for an average person on a budget in 2022, this simply isn't feasible. I decided to concentrate my glass wall money in a few places on the front of the house (to capture that first impression) and just do regular windows throughout the rest of the house. So my entryway is a glass wall with a door. Not like the one above, more like this…
Except that mine has a black metal frame. Also no glass on top. And also a wooden front door. So, really nothing like that. Helpful, right?
Moving inside of the house, you can see how it checks off want #2, the semi-open floorplan.
I wanted semi-open as opposed to an open floorplan for a few reasons…
So I can clean one room at a time. With the super open floorplan in my last house, it always felt messy, even if it wasn't. This way if my kitchen sink is full of dishes, I can still relax in my clean living room without just starting at the dishes the whole time and feeling guilty for relaxing before all my work is finished.
So there is wall space to hang things. I'm sure many of you have the same issue here…there is no place to hang any dang art or photos in a super open floorplan. I want a place to put things….art, photos, furniture pretties. I just want to be able to decorate the poop out of it with thrift store finds. I don't think that is asking too much.
My kids aren't babies and toddlers anymore, so I don't need to watch and make sure they aren't eating legos while I cook dinner. I can just cook dinner. I absolutely love babies, but having older kids is proving to be pretty freaking awesome.
A more separated floorplan just seems cozy.
The main feature in this space is the fireplace. I talked about this in the previous post, but this picture of a double-sided fireplace was my first and only consistent inspiration picture, and all my floorplans and designs incorporated it.
I liked it because…
It gives the whole house a focal point
It gives the main living spaces definition without completely blocking them off from each other
It's different, and I particularly love that it isn't touching the wall and has open shelves connecting it instead
I also mentioned that this fireplace is elusive. I scoured the internet for more pictures of it or the house it was in, but came up empty-handed. Then a reader emailed me and said it was used in Joanna Gaines book Homebody. Y'all…I spent forever trying to find more pictures of this house to see how it was laid out and it's in a BOOK THAT I OWN. A friend gave it to me years ago, and while it looks so good beautifully styled on my coffee table crammed on a shelf in the bathroom closet, I have never actually cracked it open.
The good news is it is pretty much the same photo I had already found, and there are no other pictures of it. So I didn't really miss out on anything. But still…. 🤦‍♀️
Ok, moving on to the laundry and garage.
One of the things I was really trying to do was have the laundry room be in the main hallway and also kind of in my closet, having two doors…like a laundry room jack-and-jill situation. Unfortunately I couldn't get that plan to work in a small house, so I went the complete opposite direction and put the laundry room in the garage. It's still its own room, which is nice, but now the laundry room doesn't count in my square footage because it's not air conditioned, which means cheaper property taxes.
And check on the one-car garage with storage. Not a ton, but enough for bikes and all the kid things.
The front right part of the house has two bedrooms for my four boys, their bathroom/the guest bathroom (dangerous, I know), and my office.
The boys' rooms are mirror images of each other, and each room features two loft beds with desks underneath.
My oldest son (12) had one request for the new house…a desk in his room. This is the kid that never asks for anything, so made it my goal. I designed it so that each kid has seven feet of desk space in a cozy little cubby area, where they can spread out with homework, crafts, drawing, models…whatever the heck they want. Also, the beds and desks are being built into the frame of the house, so I don't even have to buy furniture. I call that a win.
My office is in this area too. A whole room for my office is kinda a square footage splurge, but I think it's footage well spent.
The tiny little office was one of the last projects we did in the previous house, and having a place to work that wasn't the arm of the couch or bed was pretty dang awesome. I don't want to go back. My interior design classes also require a ton of space (think material samples and model making) and keeping that all in one room and not covering the kitchen peninsula or dining table seems like a sanity saver. Also, it has a large window looking into the courtyard and the most amazing angled clerestory windows, so it will be full of natural light. If you're not familiar with clerestory windows, this is what they look like…
They are windows that are located just under the roof line. Clerestory windows are great because they give you full use of the wall, lots of natural light, and all the privacy. And yes…this is where the rest of my window budget went, cause they ain't cheap.
Lastly we have the master suite, aka my room. It's got all the things, and it is also chock-a-block full of windows…because your girl doesn't have any problem sleeping in a room full of light. Most of these windows are up high (knockoff clerestory) so privacy shouldn't be an issue.
And that's the tour! At this point my house has been framed, and walking through it all feels sized well and flows nicely. So fun to watch your brain child come to life.
The next post on my "editorial calendar" (which I am already two weeks behind on thanks to the stomach bug and finals) is about the exterior. What mine looks like and all the inspiration photos that got me there.
So in summary…
Due dates set by me for myself are really more of suggestions.
Building a custom house is about getting what you want…but it's also about compromise. Just like life.
Glass in the 1950/60's must have been dirt cheap.