Planked Walls and Upholstered Headboards (master bedroom progress)
Well, the master bedroom is slowly coming along, looking better and better each month! I'm trying to work on it a little at a time and not stress, since I realize we may never fully finish it before we sell our house. I'm okay with that, and in the meantime I'm really enjoying having a master bedroom that doesn't make me cringe.
Anyway, this months challenge for my BHG sponsored post was "furniture". So a few weeks ago I was sitting in bed, perusing walmart.com, looking through all the BHG furniture and thinking how I didn't really need anything, when it dawned on me that I was sitting on two crappy mattress stacked on top of each other, with a pillow behind my back and my head resting on the wall. A bed would probably be a good idea. You know, like an adult would have.
So I ordered the king size BHG Grayson Linen Headboard in Oatmeal for $179 (they also have navy and gray, and a queen is only $119).
It had 808 reviews and 4.5 stars, which is impressive by any standards. I was a little worried because the nail heads looked black in that picture, but when it showed up they were a pretty muted brass color.
The whole thing is really nice and looks like a much more expensive headboard, and is certainly more comfortable to lean against than a hard, bare wall. Although the legs on it are just particle board covered in black felt, but no one sees them anyway so it's not a big deal.
I also decided that while I'm at it, I should probably launch us into full adulthood and get a bed frame and box spring, which would get us down to just one crappy mattress.
When I actually started shopping around I found this instead, which is a platform bed frame that doesn't require a box spring. It was cheaper than buying the combo, plus gives us lots of storage under the bed. I can even store the vacuum under it, which has been haphazardly lying around our master bedroom for seven years due to the lack of closets in this house.
Also, you may have noticed another change in this room…
Yup, planks.
For years now I have wanted at do a feature wall behind the bed in our master bedroom. It's the perfect wall for it, is large and flat without any windows. I've come up with all sorts of fun ideas along the way, none of which have actually happened. So while Adam and I were buying beds and ditching crappy mattresses, I thought it would be a good time to tackle the wall. I ended up going in the opposite direction that I had been wanting all these years, and just kept it simple with white planks. It's not exciting or daring, but I seriously love my kitchen planks, so they made sense in here. Plus planking is a fairly quick and easy project, and I'm all about quick and easy projects these days.
Adam and I did this wall just like the others, ripping thin plywood into six-inch strips, sanding and painting the edges, then installing with a brad nailer. (If you want a tutorial on planking a wall, read my tutorials here and here).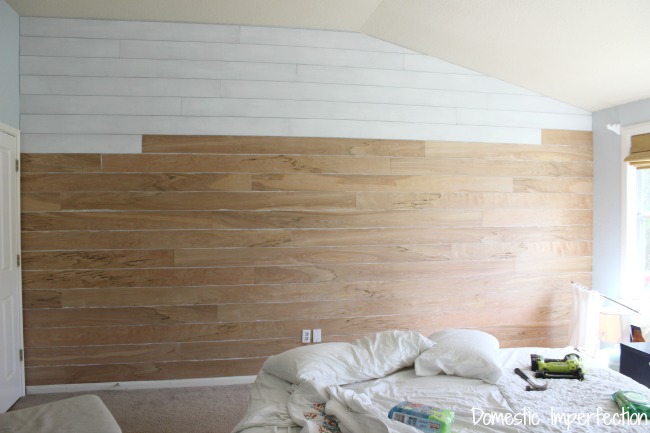 Thing is that this time the plywood we bought was a little bit nicer, and I loved how the raw wood looked. The problem was I had already prepped the planks by priming the all the edges and the planks I knew would be hard to reach. I had no choice but to paint them, and was mentally kicking myself the whole time. The raw wood would have looked so good and been so much easier….dang me and my responsible pre-planning.
Still, the wall looks nice and adds character, and the bed is a big improvement. Adam even curled up in it that first night and said he felt like Robert Crawley and that I should start referring to him as "His Lordship". That's right, real men watch Downton…and no, His Lordship isn't happening (unless he wants to pay for a maid, kitchen staff, and nanny, then I'd be a "His Lordship" -ing fool.)
Anyway, now I have to find something to hang above the bed, again, because the planked pallet sign I recently made is plank overload on this wall (I'm moving it to the other side of the room).
Suggestions are welcome, because I have absolutely no idea what to put up there. Maybe I should paint a "His Lordship sleeps here" sign and see if I can get that kitchen staff thing moving along.
For even more inspiration follow Better Homes and Gardens at Walmart on Instagram, Pinterest, Twitter and Facebook.
*This post was sponsored by the BHG Live Better Network. All opinions are 100% my own.