So the saga of the nursery sign for my nephew continues.  Two weeks ago I posted about my first attempt at a name sign for baby Chandler, and I ended up with a sign that was wasn't bad, but also wasn't my favorite. And then there was the fact that I couldn't bring myself to give it to my SIL because it was over eight feet long and completely ridiculous.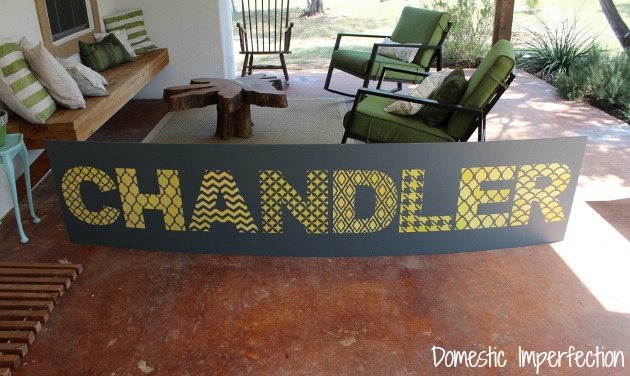 So I decided to try again. For the first sign I used the 12 inch letter stencils from Cutting Edge Stencils, in all different designs. I wanted to use stencils again because they were really easy to use and the project went pretty quickly, so I ordered the smaller 8 inch letters (see all the available sizes and designs here).
Okay, so here is what was going through my mind when I started on sign attempt number two.  Chandlers sisters sign, that I made from buttons a few years ago, is going to be in the same room.
I wanted his sign to have a similar feel, so I ordered all the stencils in the same design, Moroccan Tiles.
So grabbed some plywood, and instead of painting it I decided to stain it. Because wood is manly…wood and metal. But I didn't have any metal.
I decided to copy the colors from the button sign, but leave out the pink. I thought about painting them in blues instead, but the sign in going on a blue wall so I wanted something in a contrasting color.
So I started stenciling, adding the colors randomly until all the holes were filled.
The letters turned out crisp and awesome..except that the one of the orange paint – called pumpkin – looks slightly pink. Sorry Chandler. Though guys wearing pink is apparently cool these days, so I should actually be saying "you're welcome" for putting you a step ahead of the game.
Next came a coat of polycrylic before handing it over to my husband for framing.
He used rough cedar to make a rustic double frame. I was outside helping him when he did that thing he does when he doesn't love one of my projects. He asked me "Do you like the way it turned out?" (acceptable alternatives would have been "So what do you think?" and "is that what you thought it would look like?")
I answered and said "I don't like it as much as the button sign, but it was easier to make and turned out alright. I'm guessing you hate it?"
"No, I just think it looks like it came off the set of That 70's Show."
Dang if he wasn't right. It looks like it came straight out of Eric Foreman's bedroom…if Eric's name was Chandler. I knew I should have gone with blues…or painted the background blue. If I was willing to do the project for a third time it would be perfection, but that's so not happening.
So here is the final product. It's smaller than the first sign by two feet…but that still makes it six feet long and pretty substantial.
I think once it gets up on the blue wall surrounded by furnishings it will look more modern and less like it should be paired with bell bottoms and platforms. My SIL hasn't seen it yet, so Jaime….hope you love it. And I hope it fits in your car.
NOW…who wants to win a stencil? To enter use the Rafflecopter below (it may take an extra second or two to load). Contest will run for one week and I will e-mail the winner. Good luck!