End Table? Dog House? Both!
Remember when I gave this old 70's table a makeover?
Well, that table has an ugly step sister that I never told you about….
I decided that I didn't want to put this one in my house, so it has just been hanging around in the furniture pile on my front porch. So when my (one day) sister-in-law said she needed a large end table, I jumped on the opportunity to get it out of my pile.
By now, I'm sure y'all know how this process goes…sand, paint…blah blah blah. But this time, while I was sanding I had an idea. Elijah was crawling around in the table having a grand ol time…
…and then it hit me…dog bed! My sister-in-law had been wanting to get a small dog anyway, so this would be perfect.  So I proceeded to paint  the table turquoise to match the paisley table I had given her (Hallowed Hush by Behr) and then paint the inside a light tan (Gobi Desert by Behr).
Then I of course had to stencil the top.  I had won a Cutting Edge Stencil giveaway awhile a go and wanted to try out one that I hadn't used yet. This is the Nagoya craft sized stencil…and just as a tip, the craft sized stencils are half the price of the regular ones and you can still do all the same stuff. A wall will take quite a bit longer, but a tabletop works great!
Next I gave it the Dirty Cowboy treatment and a coat of of polycrylic.
Then, to make it irresistible to my scruffy little mutt, I threw her dog bed inside…voila, a dog bed end table!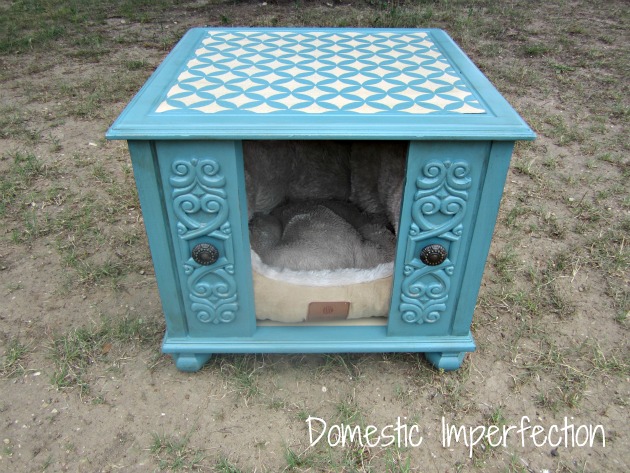 And you know what….Pretzel liked it!
Honestly though, the only thing that makes this a dog bed/end table combo is the fact that I took the door off, painted the inside, and stuffed my dog in it. To make it into a regular end table all you have to do as put the door back on.
But really, y'all thought I was more creative when it had a dog in it, right? This would be really easy to make yourself, all you have to do is find the right kind of end table (and the right size dog.)