Stenciled Farmhouse Table + Country Living Magazine
Are any of y'all familiar with a little magazine called Country Living? Yeah, I thought so…in this crowd that's like asking a toddler if he's heard of something called "blocks". So a few months ago I received an e-mail from Country Living asking if I'd be interested in working with them and Minwax on a project for the magazine.
Now most of the time it takes me a few days (or weeks, even) to respond to e-mails after I receive them. This one though…I was all over this one like white on rice. Like dots on dice. Like stink on…well, you know. I answered it in the flashiest of flashes.
They commissioned me (they even called me an "artisan") to build a farmhouse table, stencil, stain, and seal it using Minwax products. Then I was to ship the table to NYC for a photo shoot at Country Living, and it would be part of a Minwax advertisement in the September issue (which comes out today!).
So today I'm sharing a tutorial on how to stencil and stain a table (which will also be featured on countryliving.com). I blogged about this process a couple of years ago (paisley table) and that post is still one of my most viewed posts everyday. I used the same steps for this table as I did that last one, only this tutorial is more in-depth and answers a lot of the questions I still get about the process.
Step One – First things first, you're going to need a table. Adam and I (though mostly Adam) built one, but finding one at a thrift store or garage sale is a great option as well. If you purchase a table you will need to sand it down to raw wood before doing anything else. I'm not going to give you a tutorial on building the table, but we loosely followed this tutorial from Ana White.
Step Two – Gather your supplies for stenciling.
You will need a foam roller, painters tape, a paint tray, Sherwin Williams white paint in eggshell, and a stencil. I used the Chelsea Allover Stencil from Cutting Edge Stencils.
Step Three – If you'd like, tape off the edges of your table so that the stencil ends in a nice crisp line around the edge. 
Step Four – Start stenciling.
Before you start going at it with the roller you will want to make sure that the stencil is completely straight. If its off even a little the end result will be a crooked design and that's just no good. With some stencils this doesn't matter (like my paisley one), but with this particular pattern it did. After you have the stencil where you want it, tape it down and start stenciling. Just make sure there is very little paint on the roller…if there is too much paint on the roller it will creep under the stencil, mess up your design, and make you want to throw something.
Step Five – Pull up your stencil, wait for the paint to dry, then continue stenciling until the entire table is covered.
Step Six – After the paint is dry you may want to give the top a light sanding to even it out. Don't go crazy here, sand just enough to remove the raised edges left by the stencil.
Step Seven – Now it's time to prep the table for staining by applying pre-stain.
Pre-stain makes a huge difference and is very easy to apply…just brush it on and allow it to set for 5-15 minutes, then remove any excess with a clean cloth before starting the next step.
Step Eight – This is the scary step, staining over the stencil. Go ahead and stain the top, just like you would if you hadn't just lovingly and carefully stenciled it.
My husband brushed on the stain and I went behind him with a rag, buffing it off. Here it is halfway done, you can see what a huge difference the stain makes. I used Minwax Wood Finish in Provincial, but I also think this table would look amazing with a natural or gray stain.
Here is a close up, you can see how the stain tones down the stencil. The type of paint you use will determine how the stencil looks after staining…if you use a flat paint it will absorb the stain and give a tone-on-tone look, if you use gloss it will reject most of the stain and the end result will be a brighter stencil. (I used eggshell.)
Step Nine – Seal the table. I used Minwax Fast-Drying Polyurethane, it's an oil based sealer that is tough and durable. If you want something water based use Minwax Polycrylic, it's easy cleanup and provides a crystal clear finish. Let the stain dry completely before adding poly. For best results give the table a coat of poly, gently sand it with 400 grit sandpaper, and add a final layer of sealer. This will  give you a silky smooth finish.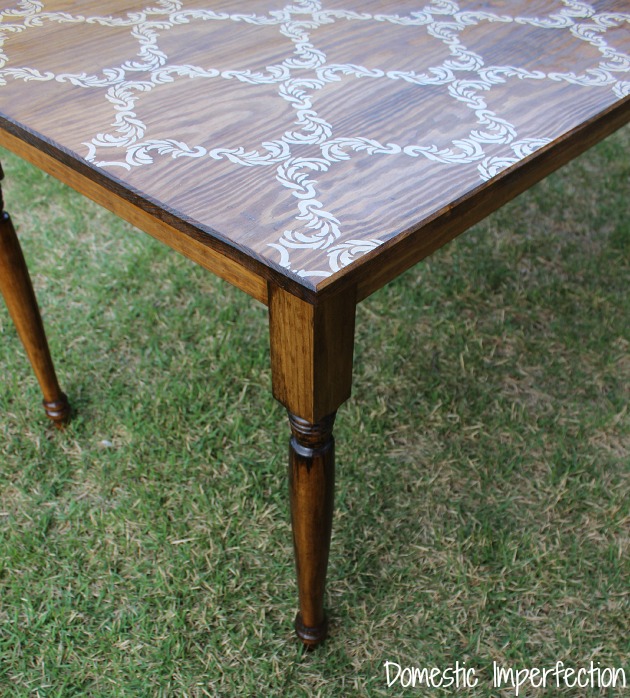 Here's one of the photos Country Living took of the table…I daresay they're a smidge better at photography and styling than I am.
So there you have it, how to stencil and stain a table (or anything wooden, really).  Easy and beautiful! And next time your waiting in line at the grocery checkout, grab a Country Living and flip through it till you see my smiling mug in the Minwax ad!