I've been so concentrated on building the new house that I haven't done a project in a good long while. I finally have one for you today though, a Lego table!

Last month Levi (my middle son) turned four. Four. I remember blogging his birth story like it was yesterday, and now he's my four-year-old middle son. Crazy.
Anyway, I made him a Lego table for his birthday. He loves it, my other boys love it, and I kinda love it too…despite the fact that it lives in my living room and has a million pieces.
It started when my mother-in-law gave me this old coffee table.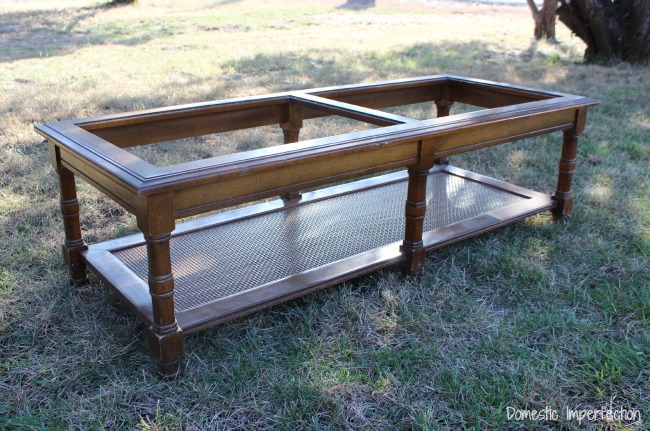 It was missing the glass and kinda beat up, but sturdy. I had no idea what to do with it when I took it, I just collect old furniture castoffs because I have no self-control. It didn't take long to decide it would make a perfect Lego table though.
So I started Lego shopping, and quickly decided that there was no way I was going to buy the regular tiny ones…those suckers would end up everywhere, scattered. I will step on them and curse the day I welcomed them into my home. And most importantly I have a very mobile eight-month old who puts everything in his mouth. I decided that the Lego Duplos (for kids five and under) would be perfect. My kids have never played with Legos so they won't even know the difference, the baby won't choke to death, and I will be able to hold onto my sanity for a short while longer.
So one day I'm shopping online for Legos and Elijah (5) says (super causally, while licking his applesauce spoon) "I know what you're doing mommy." I immediately get defensive and a little nervous, as if I'm I actually doing something wrong. "What do you mean?" I ask. " I know what you're looking at on the computer. You're looking at Legos."
What the…how did he…can he see through my computer?
So I divulged my plan, and explained that it was a surprise for Levi's birthday and it had to be our little secret. As it turns out, sharing a secret with your five-year-old is pretty darn fun. Every day he would come up to me, cup his little hand around my ear and whisper something like "I still remember our secret, and I haven't told anybody. Not even Grandma!"
Anyway, enough story time….do you want to see how to make a Lego table? Post contains affiliate links for your convenience, click here to read my full disclosure.
Materials needed –
Table of your choice
Lego baseplates
Mod Podge or any decent glue you have on hand
X-acto knife for cutting base pates
paint (optional)
storage bins (optional)
How to build a lego table –
First I added plywood to the underside of the table, making a place for the Lego baseplates to sit. I just cut some scraps to size and used glue and screws to attach them. (This step probably won't be necessary on your project, our table was just in particularly bad shape.)
Then it was given a light sanding and I primed and painted it.
I normally use a brush, but I recently got my hands on a paint sprayer from HomeRight and I have to say….it is awesome. Easy to use, super quick, great finish, not expensive ($70 bucks on Amazon!). The spindly legs were even fun to paint, and I usually dread them.
After the table was dry it was time to add the baseplates. I bought the biggest I could find, which was a 15 x 15 inch square.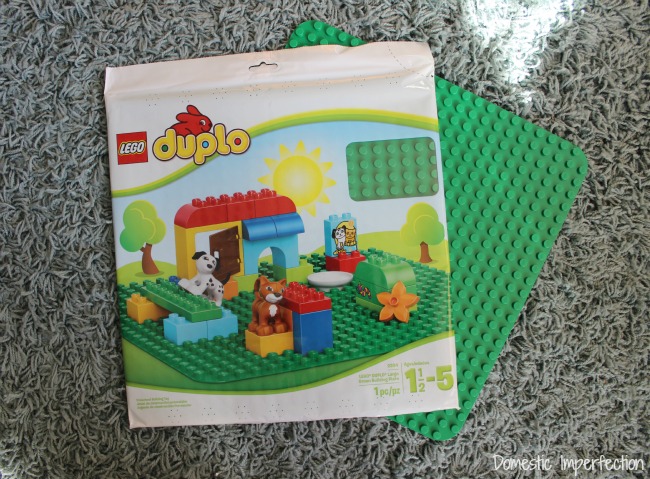 It still wasn't big enough to fill the space I needed, so I bought three and cut the third one down to fill the extra space.
So how do you cut a Lego baseplate? It's actually really easy. First decide where you need to cut and add Legos just to the right of the that. Use an xacto knife and run it along the side of the Legos, pressing fairly hard.
After a few passes you will have a deep cut, then you can just bend and break it. The results are a perfectly straight edge…I'm actually surprised how well this worked.
Next I attached the baseplates to the table. Here's the trick to joining to base plates – you need to first attach them with Legos to make sure the gap is correct. If you just mash them together you may not be able to snap the Legos on after its glued down. That would be bad.
To attach it to the table I used Mod Podge, but you could use pretty much anything you have on hand.
While I was working Judah made sure to inspect the Legos, tasting each one to make sure it was safe for play. He was very thorough. I'm glad I got the big ones.
He was so determined to play with them that he (at a fresh 7 months) taught himself to pull up on furniture just to get to them. You can find now find him at the Lego table approximately 90% of his waking hours.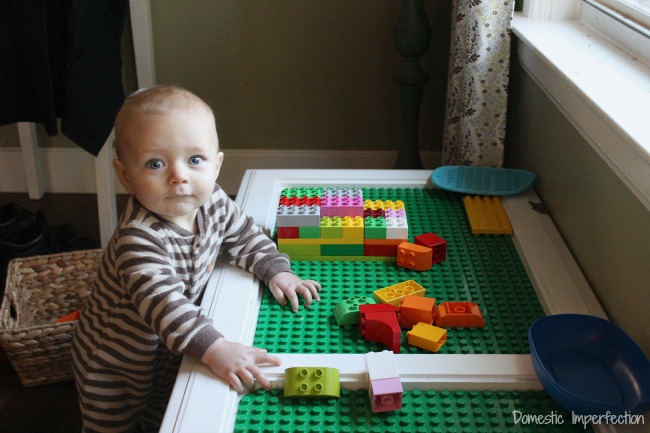 I made the table on Levis birthday, and finished it only about 30 minutes before I had to pick him up from preschool. Extreme procrastination is how I get my kicks.
Anyway, if you're looking for a Christmas or birthday gift for your kids (or perhaps just something that they will play with for hours on end and forget you exist) this is a great option.
It doesn't hurt that it's nice to look at either!