An update on Judah and life with three kids
I think it's high time for a baby update. I can sense that y'all want one, I can feel everyone thinking "curtains, saloon doors, lampshades, whatever…show me the baby!" Okay, FINE. If y'all are going to force me to show pictures of my adorable new son, then I guess I will. Just don't expect me to like it.
Okay, let's just get all the gushing out of the way. I love him. He is the cutest, sweetest, snuggliest little thing you've ever seen. I want to just sit and hold him all day long and ignore all the dishes and laundry for forever. (Okay, I always want to do that, but still). I'd forgotten just how much I LOVE having a baby around.
I'm not the only one either…
The boys love having a baby around as well. Elijah likes to take care of him…he wants to change his clothes, change his diaper, fetch baby stuff for me…he's very helpful (or at least tries to be). He doesn't really ask to hold or snuggle little Judah though, just take care if him. Levi is just the opposite. He doesn't want to help, but he constantly wants to hold him, kiss him, carry him….it's so adorable and makes my heart swell like the Grinch's. Although, Levi's intense baby-love is also exhausting, since he's not exactly a gentle kid. He's rough and tumble, stubborn as all get-out, loud and brimming with energy. Basically, he's three.
(Levi's handiwork)
So here are a few things about Judah at two months of age….
*He has this one little blonde backwards curl on the top of his head that is my absolute favorite thing.
Well, sometimes it's not there…it depends on how much Levi has been petting him.
*He's just starting to smile and "talk", which is so much fun. You can say something and he will mimic you….as long as what you are saying a "Ah-goooo" with a little gurgle at the end.
*Sometimes he snorts when he cries. He will wail, and the when he breathes in to prepare for another wail, he snorts. I'm pretty sure it's my husbands favorite thing.
*He's a people person. This kid does not like being alone. I remember the other boys wanting be snuggled and held, but if you put Judah in his bouncer and leave the room he notices and starts the snort cry. The other boys could have basically cared less (especially Levi).
*If it wasn't for my Ergo carrier I wouldn't ever get anything done. I'm basically still pregnant.
*He looks worried most of the time. See his one and two month pictures as evidence.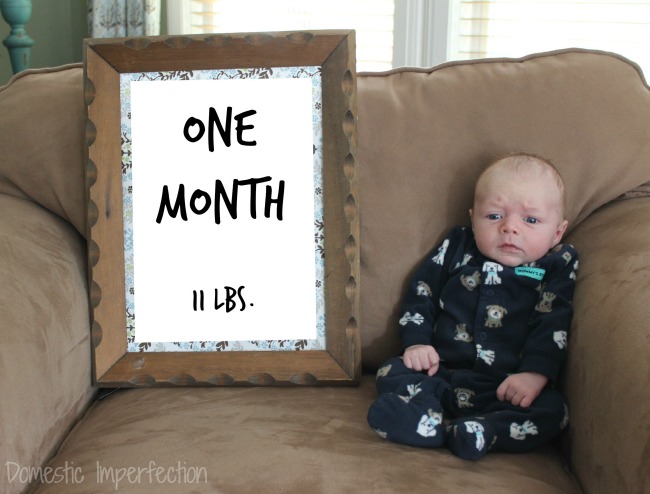 Obviously I can't say that Judah doesn't contribute to the chaos around here, because he does, but he's my comfort in the chaos. When things are crazy I can just go pick him up and cuddle him, and it doesn't matter that the sink is full of dishes and everyone is still in their pajamas at 2pm…I have a sweet little baby to snuggle with.
(not a accurate portrayal of everyday life)
So how is it having three boys five and under? It's great. It's loud, energetic, and always exciting. My house is full of life…full of imagination and play, toys and messes, failed patience and forgiveness. It's full of horribly monotonous and never-ending household chores. It's the most challenging thing I've ever done and I'm learning a lot about myself. I would love to say I'm enjoying every second of it, but that's not quite true. There's nothing like having three kids crying at the same time to make you go a little bit crazy.