Round Inlay Table…err, Wall Medallion
Three years ago I stenciled a dining room table for my in-laws using the Indian Inlay kit from Cutting Edge Stencils.
It turned out gorgeous, but admittedly took me forever to do since the stencils comes in a bunch or small pieces (which also makes it super versatile).
I remember a few of you asking if you could use this on a round table, and at the time you couldn't. Since then Cutting Edge has come out with a round version of this stencil (two actually). As great as that news is, it gets even better….it doesn't come in a million pieces. LOVE IT.
So a few months ago I found an old table top for a few dollars and picked it up, knowing it would be perfect for the round inlay stencil. It didn't come with a base, but I figured a cheap base would be easy to find (spoiler alert – they are not).
It was pretty beat up, so I went about prepping it for paint by first filling the holes and dents with 3M patch + primer. This is the best filler ever, BTW…don't even bother buying anything else.
Then I sanded it all smooth…
and painted it gray.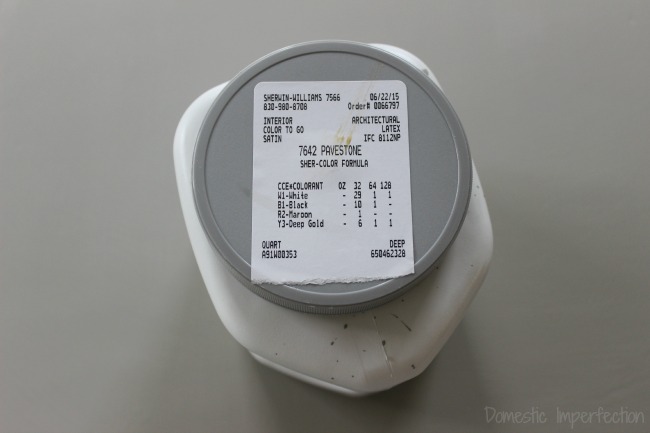 This color is "Pavestone" by Sherwin Williams, which is a neutral gray that my three-year old son Levi picked it out. I took him to the store, pulled out about ten gray samples, and we talked undertones for a while. Then I asked him to pick a gray without any, and he pretty much nailed the dismount. I try to instill the best traits into my children…honesty, integrity, compassion…and a true and deep understanding of undertones.
Then after the paint was dry I grabbed all my supplies.
Materials needed –
Table or other flat surface to stencil
paint tray
small foam roller
latex paint
spray adhesive (not 100% necessary, but I do recommend it)
Sealer of your choice
The hardest part of this project was finding the exact center of the table. I suppose some handy-dandy math would have helped, but I pushed all that out of my head the day I finally passed college algebra. Best day of my life.
Once you have the center, stencil one side, rotate the stencil 180 degrees (don't flip, just rotate), and go again. I also used spray adhesive on my stencil because it helps give you perfect lines, but it's not completely necessary.
I wanted the finish in it to be really matte, so I sealed the whole thing with wax.
Isn't it pretty? It's looks like I spent way longer on it than I did!
While doing this project my mom was over playing with the three boys (and saving my sanity). I was telling her how pedestal table bases are crazy expensive new and nonexistent used, and I wasn't quite sure what I was going to do with the tabletop (it's just sitting on top of smaller table in the above picture.) She said "I think it would look great on the wall above my bed." Done. I wouldn't have ever thought to just hang it on the wall, but I think it's a great idea.
And that's it….such an easy project with a big impact!